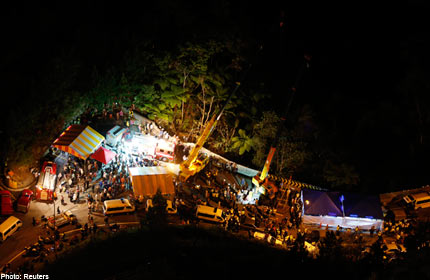 PETALING JAYA - The Works Ministry is doing an audit of the Genting Highlands route that may lead to a safety upgrade of the road in the near future, following a deadly bus crash there in August.
Works Minister Datuk Fadillah Yusof told The Star the audit, being carried out by the Public Works Department, was expected to be tabled before the Cabinet soon.
Declining to elaborate on the report's findings, Fadillah said further action would depend on the Cabinet's recommendations.
He said that though the route was privately-owned, the Government needed to take steps there as it was used by the public.
"Depending on the recommendations, if construction on that road is taken up by the company (Genting Berhad), we will provide the technical support to oversee its implementation," Fadillah said.
He said works on the road may include redesigning and an upgrade of its safety aspects.
"If they cannot cope or do whatever recommendations (to the road), we will try to find a solution," he said.
On Nov 8, acting Transport Minister Datuk Seri Hishammuddin Hussein cited a report by Malaysian Institute of Road Safety (Miros) that the Aug 21 crash that claimed 37 lives was due to speeding, bad brakes, poor road design and the operator's unsatisfactory policies.
The Land Public Transport Commission (Spad) has since announced it was suspending the operator of the doomed bus and was mulling further action.
An audit of a facility usually involves inspection or examination to evaluate or improve its appropriateness, safety, efficiency, or the like.