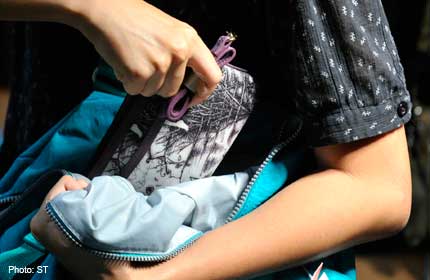 MALAYSIA - The gutsy woman chased two robbers on a motorcycle in her car. This unnerved the duo who crashed their motorcycle into a road divider.
One of the culprits was trapped under her vehicle, but she refused to help the injured man who later died of head injuries, reported The Star. The other thief, taking advantage of the commotion, got into the woman's car unnoticed and escaped.
The incident happened at a housing estate in Kajang, Selangor.
The 32-year-old Malaysian mother-of-two, who wanted to be known only as Ms Lee, later retrieved her handbag containing RM4,000 (S$1,500).
Ms Lee, a cashier, said she had earlier parked her Hyundai car and was walking back to her flat when the two men rode towards her on a black Yamaha motorcycle during the 6am incident on Sunday.
Knife
"The pillion rider held a long knife to my neck, ordering me to 'shut up and don't scream'.
"He then asked me to hand over my handbag. I did as I was told. At the same time, I begged to have my car keys and he opened my bag and threw it on the road.
"As they sped off I wanted to scream for help. But then I realised they were only on a motorcycle and I had a car," she said.
She got into her car and went after the men.
"I was so angry because I hate these kind of people. I really wanted to hurt them," she said.
Ms Lee said the pillion rider tore off his helmet and threw it at her windscreen, his action causing the motorcycle to skid and crash into the road divider at a traffic light junction.
She said the pillion rider's arm was stuck under the car tyre and he begged her to let him go, while at the same time groaning to passers-by that she had knocked into him.
"I came out from my car and said: 'No. These men robbed me'.
"I did not notice the other suspect sneaking into my car after I got out. He drove off fast," said Ms Lee, who described the thief as "fat, bespectacled and wearing a dark blue jacket and black pants".

Get The New Paper for more stories.