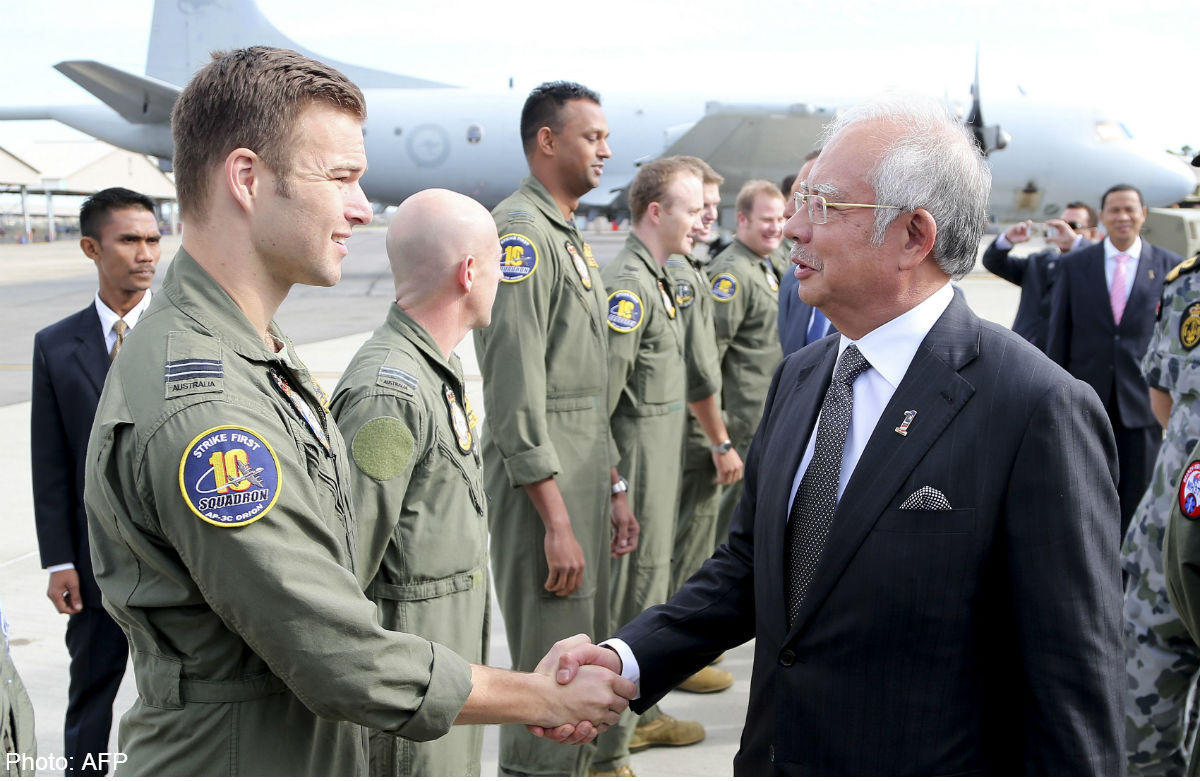 PERTH - As the deadline for finding the data recorder of missing Malaysia Airlines (MAS) Flight MH370 loomed, the prime ministers of Malaysia and Australia pledged to do everything humanly possible to locate the plane, though they remained uncertain whether they would succeed.
Malaysian Prime Minister Najib Razak, who visited Perth yesterday to thank the multinational search team now based there, said: "We will not give up."
"I know that until we find the plane, many families cannot start to grieve," he said.
The Boeing 777-200 jet disappeared from radar screens on March 8 with 239 people on board while en route to Beijing from Kuala Lumpur.
Investigations revealed that its communications systems had been manually disabled and that the plane had veered far off course into the remote southern Indian Ocean. Datuk Seri Najib announced on March 24 that MH370 had ended in remote seas off Australia - with very little likelihood of survivors - though many relatives remain doubtful in the absence of any wreckage.
MAS has said it will make arrangements for family members to travel to Perth once wreckage is found. But several 10-hourlong sorties flown over the past two weeks have failed to uncover any relevant debris in the sea and the battery powering signals emitted by the "black box" data recorder is due to run out early next week.
A black box locator that was earlier dispatched to the search area cannot be used until debris is located as it can only scan the area at up to 5kmh.
Australian Prime Minister Tony Abbott, standing shoulder to shoulder with a grim-looking Mr Najib in central Perth, called the search "the most difficult in human history" and urged relatives of the missing to be patient.
The investigation team was "putting the jigsaw together" using "just small pieces of information".
"Every day, we have a higher degree of confidence that we know more about what happened to this ill-fated flight," he said.
Mr Najib's short trip to Perth comes just before a three-day visit to Vietnam. He arrived in the Australian city on Wednesday night, and headed 35km north just hours later to Pearce airbase, from which most of the search flights are being launched.
There, he thanked representatives from the different countries contributing to the search and was briefed by Australia's former defence forces chief Angus Houston, who now heads the Joint Agency Coordinating Centre overseeing publicity on the search and recovery effort.
Apart from Malaysia, Australia, New Zealand, the United States, Japan, South Korea and China are also part of the hunt.
The British nuclear submarine HMS Tireless has arrived in the area. Meanwhile, Malaysian ship KD Lekiu departed from HMAS Stirling naval base, south of Perth, yesterday.
Yesterday's search involved 10 planes and nine ships, covered more than 200,000 sq km lying 1,700km north-west of Perth.
This search zone has been steadily adjusted north based on analysis of information available to search authorities.
Mr Najib told reporters later "the new refined search area has given us new hope" but did not elaborate. He also did not take any questions from the media.
Malaysia's police chief, meanwhile, has ruled out the passengers as suspects in the plane's disappearance, but also said that the case may never be solved.
tanhy@sph.com.sg
This article was published on April 4 in The Straits Times.


Get a copy of The Straits Times or go to straitstimes.com for more stories.