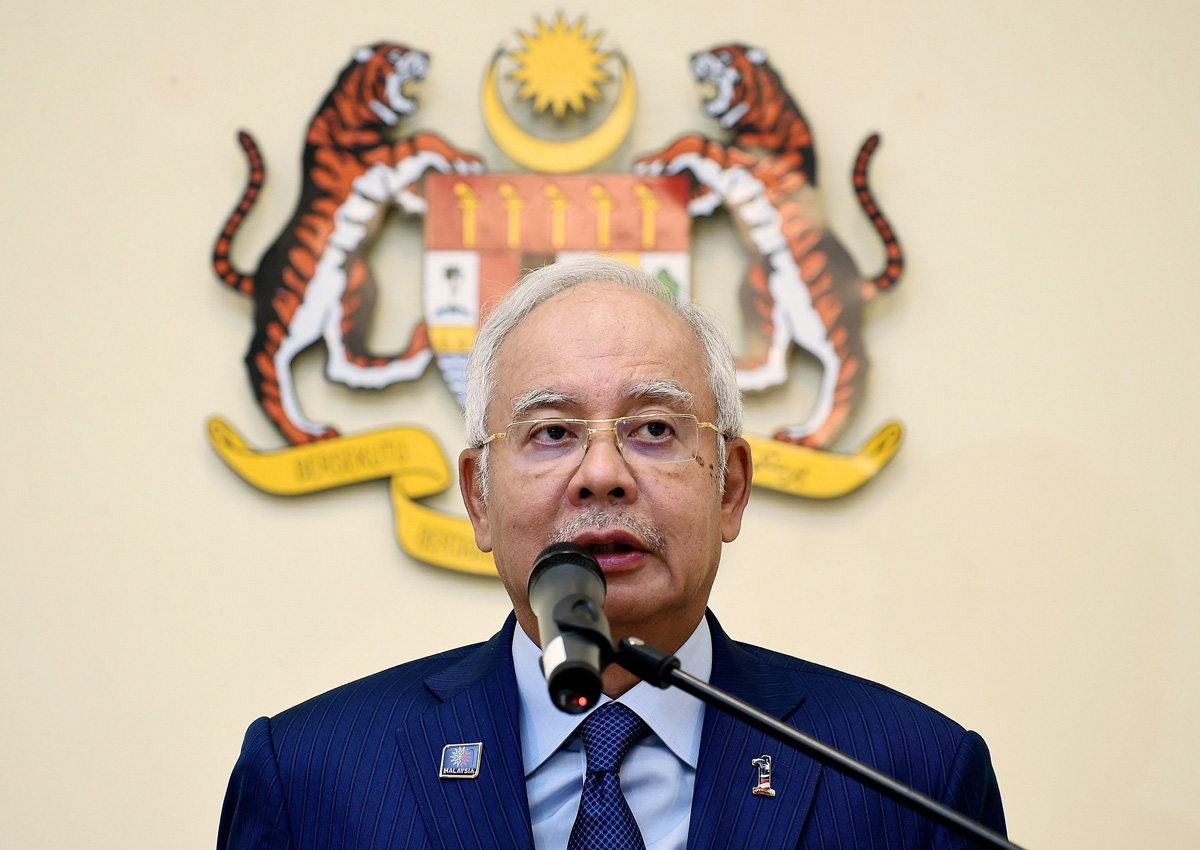 KUALA LUMPUR - Malaysian Prime Minister Najib Razak yesterday was ordered by the High Court to file his defence by Oct 1 in a breach-of-trust suit initiated by a former United Malays National Organisation (Umno) member over massive funds found deposited in his personal bank account, the local media reported.
On Aug 28, Anina Saadudin filed the suit, which she said was launched on behalf of the ruling Umno party, against Mr Najib to claim a US$650 million (S$916 million) portion of the US$681 million which the Prime Minister said was donated to him by a Middle Eastern country to help Umno in its 2013 election campaign.
According to Ms Anina's filing, US$650 million of the donation was transferred out of an AmPrivate Banking account in Malaysia on Aug 30, 2013, into a Singapore account that "did not belong to Umno", online news portal Malay Mail reported.
Ms Anina, who was formerly leader of Umno Langkawi's women's wing, charges that Mr Najib had therefore violated his duties as a trustee since the money was said to be a donation for Umno.
About three days after she filed the suit, Ms Anina was sacked from Umno for taking Mr Najib, who is the party's president, to court.
Besides having to answer Ms Anina's challenge on him to reveal full details of the donation, Mr Najib has been told by the court to file an affidavit by Oct 6 in reply to two applications by the plaintiff, reported the Malay Mail.
Ms Anina has applied for an injunction to freeze Mr Najib's assets up to a value of US$650 million, according to her lawyer, Mohamed Haniff Khatri Abdulla.
She has also asked the court to order the Prime Minister to fully declare all his local and foreign assets either held by himself or others on trust, said Mr Haniff.
The court has given Mr Najib the liberty to file any other application before Oct 21.
The freezing of the assets is to prevent Mr Najib from moving them elsewhere, so that Ms Anina could have the means to remedy lapses if she wins the case, the news website The Malaysian Insider quoted Mr Haniff as saying.
Ms Anina rose to prominence at a Langkawi party division meeting last month when she was recorded on a video saying Mr Najib had "lied" to Umno members by claiming all of them supported him.
Over the last few months, Mr Najib has been under pressure, including from former prime minister Mahathir Mohamad, to step down as prime minister over the debt-ridden state investment agency 1Malaysia Development Berhad and the donation.
He has never identified the donor nor revealed where the balance of the donation has gone to.
Police and the Malaysian Anti-Corruption Commission are still investigating these cases, said The Malaysian Insider.

Get MyPaper for more stories.