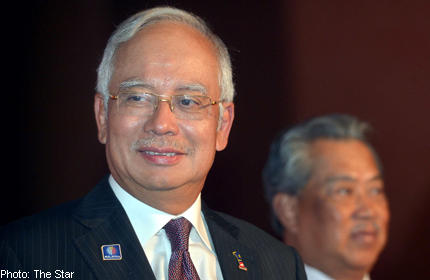 KUALA LUMPUR - The October election of the politically dominant United Malays National Organisation (Umno) is likely to be a tame affair with no change in the party's top two posts and at the helm of the women's wing.
Indeed, interest is now centred on the contests for vice-president - where five candidates will duke it out for three posts - and the head of the Youth wing - where the incumbent is Culture and Sports Minister Khairy Jamaluddin.
Most analysts think that Mr Najib will not be challenged because a serious challenge - say from his deputy, Muhyiddin Yassin - might split the party and leave it vulnerable in the next general election.
In addition, former prime minister Mahathir Mohamad, who remains influential in Umno, has counselled against it.
There will also be no contest for the head of the woman's wing after Azalina Othman, a lawmaker from Johor, pulled out from the race on Tuesday, saying that she would focus on winning a seat in the Supreme Council instead.
That leaves the coast clear for incumbent Shahrizat Jalil who was not picked as a candidate in the March general election. Retaining her position would buttress Ms Shahrizat's comeback chances: her political star had seemed to fade after her husband got embroiled in a RM280 million (S$108 million) cattle-farming scheme that went awry.
Five candidates are vying for three vice-presidential posts. The incumbents - Home Minister Zahid Hamidi; Defence Minister Hishamuddin Hussein, and Rural and Regional Development Minister Shafie Apdal from Sabah - have all indicated that they would defend their posts.
Two others - Felda chairman Isa Samad and former Malacca chief minister Ali Rustam - have jumped into the fray.
The weakest among the incumbents is Mr Hishamuddin who, political analysts say, had developed a reputation for ineffectiveness when he was home minister.
Speculation is also mounting over whether Mukhriz Mahathir, the Menteri Besar of Kedah and the youngest son of Dr Mahathir, will throw his hat into the ring. Mr Mukhriz says that he has not decided but political analysts say that he is unlikely to run; preferring, instead, to be among the top five most popular Supreme Council members. That would set him up nicely for the next party polls.
The council consists of 25 elected members and 10 others who can be appointed by the party president.
It is not clear if the Umno Youth head will be challenged. While he remains unpopular in some party circles - mainly because of Dr Mahathir's dislike for him - he has largely regained influence in party circles and, after Mr Najib, is probably the most popular figure in Umno among the youth and non-Malay Malaysians. Mr Khairy would be hard to beat.
Interestingly, Mr Najib may well have to ward off a challenge from former finance minister Tengku Razaleigh Hamzah. The Kelantan prince tried in Umno's last polls in 2010 but failed to secure enough nominations to qualify to contest for president.
But the party's constitution now requires just a single nomination to run for president, so Tengku Razaleigh, a serving parliamentarian, qualifies if he wants to. Some believe he will: party personnel say that the prince has always thought it was "his manifest destiny" to be premier. Tengku Razaleigh himself has indicated that he has not made up his mind.
But if he does, he will have two things in his favour - the protest vote against Mr Najib, and the fact that the prince would be beholden to no one, least of all Dr Mahathir. Even so, his age, 77, and the fact that he has been out of government for 26 years would greatly limit his chances.
Get The Business Times for more stories.