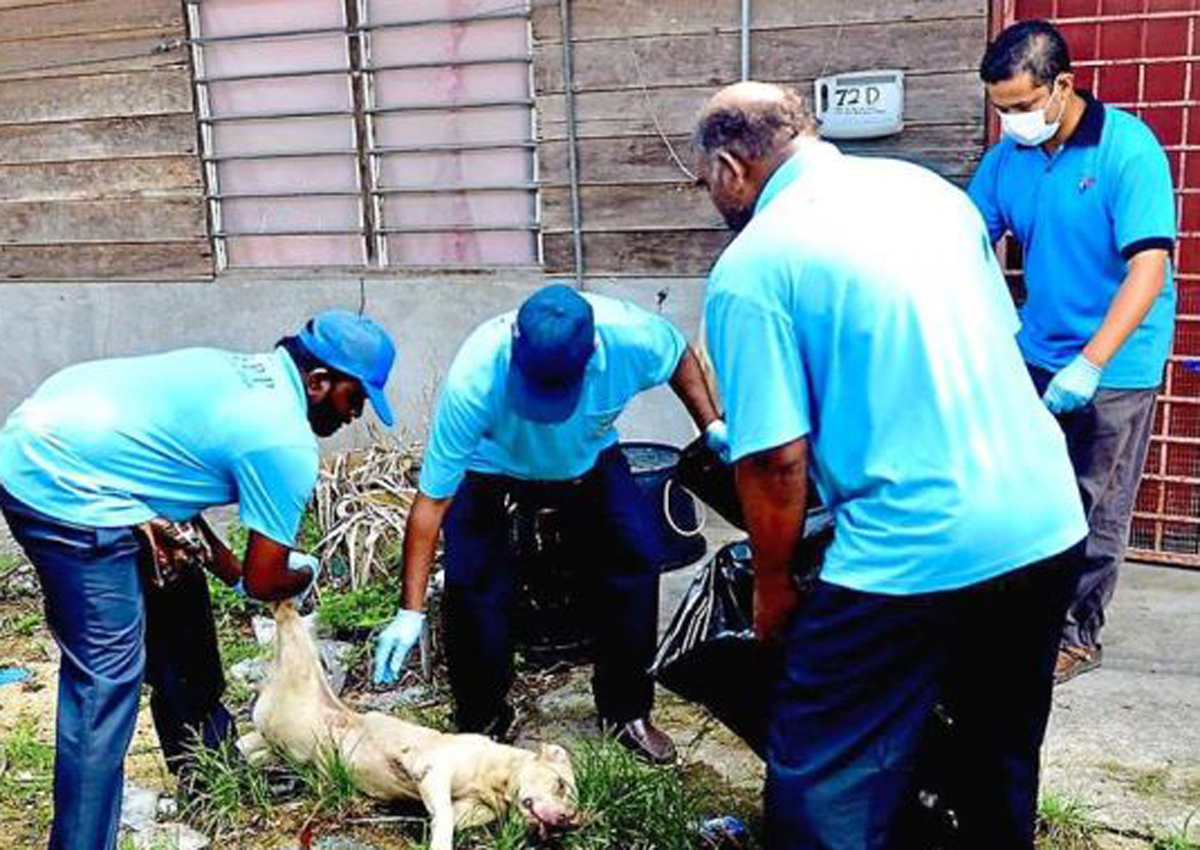 The northern states of Perlis, Kedah and Penang are currently fighting a rabies outbreak. Many were caught by surprise as Malaysia was declared rabies-free just three years ago.
The authorities have gone on a culling exercise and, so far, more than 2,000 dogs have been killed in the three states.
Animal welfare groups and activists are campaigning against the cull order in Penang, and Chief Minister Lim Guan Eng received the brunt of their anger for ordering the cull based on Department of Veterinary Services (DVS) advice.
Currently, foreign non-governmental organisations World Veterinary Services (WVS) and Mission Rabies have offered to vaccinate all dogs in Penang and Lim has asked the Federal Government to look into accepting the offer.
So, what had authorities done in the past to have eradicated rabies from the country, and what could have happened in the last three years to bring it back?
Former DVS director-general Tan Sri Dr Mustaffa Babjee recalls how intensive work was carried out in a "immune belt" along the Malaysia-Thai border states of Perlis, Kedah, and Kelantan.
All the dogs in the immune belt were vaccinated against rabies every year, and stray dogs were not allowed into the area, which spreads out 10km in radius from the border.
"I don't know if they continued doing this," says Dr Mustaffa, adding stray dogs that wandered into the buffer zone from Thailand were immediately caught and euthanised.
Rabies is endemic in Thailand and used to be carried into Malaysia by stray dogs, he says.
He adds that all dogs that had been vaccinated against rabies were tagged with a collar to indicate their status.
Meanwhile, a former DVS officer says he believes the practice of compulsory vaccination in the buffer zone is not being zealously followed currently.
It is stated in the previous Animal Ordinance and current Animal Welfare Act that this must be done.
A district veterinary officer in one of the border towns says many residents in the villages in the area have not been vaccinating all their dogs in the last few years.
"We used to charge them RM5 (S$1.62) per dog for the rabies vaccination but the price was increased to RM20 per animal about four years ago," says the officer who declined to be named.
Most of the people living in and around the immune belt are not financially well-off and RM20 a dog is too costly for them, he points out, adding that many families, especially in the villages, keep dogs to take care of their fruit trees and vegetable plots. When the price was increased to RM20 for each jab, they would vaccinate only some of their dogs, not all.
Since they were working dogs, these dogs also wandered around.
But why the sudden outbreak, and what should ideally be done?
For an outbreak to have occurred, there must have been an introduction of an infected animal into the area in question.
A susceptible area is an area which has no immunity against the disease, with the dogs there not vaccinated against rabies, says former DVS head of disease control Datuk Dr P. Loganathan.
According to Dr Loganathan, ideally, 70 per cent of dogs around susceptible areas must be vaccinated.
Dr Loganathan also questions if the current confirmation of the infection in the northern states followed World Health Organisation (WHO) specifications.
"It is not known if the infection has been confirmed according to this - Malaysia certainly has the capability to carry out these tests according to WHO standards," he says.
He adds it is also not known if the samples taken from the infected dogs have been sent to the DVS research centre for final confirmation.
Dr Loganathan says that ideally, once properly confirmed that it is indeed rabies, a census of the dog population in the area must be carried out, followed by a vaccination campaign.
The past practice, he says, was to catch and euthanise some stray dogs in border areas for rabies testing annually to ensure that the infection does not make its way into Malaysia.
Former Malaysian Small Animal Veterinary Association president Dr Clement Anthony says it is not practical for the affected states to go on a culling exercise to counter the rabies outbreak.
"Why cull dogs that are not infected? The authorities should work with rescuers and feeders to help identify street dogs and vaccinate them every year," says Dr Clement.
The problem, he adds, is that there is no stray management machinery in place currently.
According to Dr Clement, only dogs that show symptoms must be destroyed, while rescuers and feeders must be given the responsibility of monitoring dogs that are not infected for symptoms.
"If not infected, why cull, as currently only 39 out of the 2,000 dogs culled tested positive, and this is only about 1.8 per cent," Dr Clement points out.
Former Zoo Negara assistant director and resident veterinarian Assoc Prof Dr S. Vellayan concurs, adding that dogs suspected of rabies could be caught and locked-up to determine if they are indeed infected with rabies.
An infected dog will die within 10 days of the onset of rabies. If the dogs are not dead within those 10 days and do not show any symptoms, they can be vaccinated, quarantined (vaccinated dogs must be quarantined for two weeks) and released.
Dr Vellayan, who is currently with Universiti Teknologi Mara's Faculty of Pharmacy, says the current method used by the authorities in the northern states has caused a lot of havoc and discontent.
He adds that local council pounds can be used to quarantine dogs suspected of rabies as well as street dogs that have been vaccinated against rabies.
"Rope in the rescuers and get them to help monitor the street dogs that have been quarantined," he says.
Canine welfare organisation Malaysian Dogs Deserve Better (MDDB) project manager Melinda Joy Gomez says the Trap-Neuter-Release-Manage exercise currently being carried out by independent groups and rescuers may be an answer to keeping tabs on street dogs in rabies-prone areas.
"The rescuers already have records of these community dogs, so it would be quite easy to do the job," she explains.
Former DVS director-general Dr Mustaffa says the idea of "community dogs" could come in handy in countering the spread of rabies.
"If they (rescuers) can put these dogs on a leash, quarantine them and have visible tags and records for identification, it can work," he says.
Meanwhile, MDDB's Gomez says it appears as though the authorities are using the rabies outbreak to get rid of street dogs.
She claims that this is implied in a recent story on an online news portal that quoted DVS deputy director-general (development) Datuk Dr Quaza Nizamuddin Hassan Nizam.
When asked why vaccinating street dogs is not an option here since it has worked well in Bali and other countries, Dr Quaza reportedly said there is a lot of trepidation towards dogs in Malaysia.
"So is the DVS on a culling spree because of this trepidation?" asks Gomez.
She adds the DVS must initiate a dialogue with independent rescue groups, rescuers and feeders instead of just engaging mainstream organisations like the SPCA to get a real picture of what is happening on the ground.
It is these independent rescuers and feeders who have put their hearts and souls into and dedicated their entire lives to caring for street dogs.
"Talk to them and you'll see that Malaysia too has community dogs like Thailand and Bali," says Gomez.