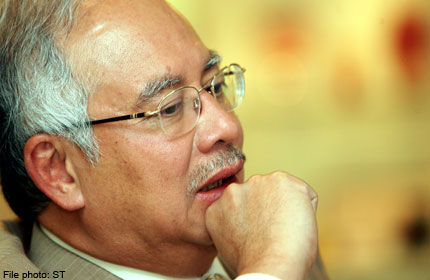 KUALA LUMPUR - A huge free trade deal in the Asia-Pacific is unlikely to be signed this year, Malaysia said Sunday, a day after the United States said the year-end deadline was achievable.
Prime Minister Najib Razak said the end of the year was a "very tight timeline" for the Trans-Pacific Partnership (TPP).
He told a press conference after a bilateral meeting with his Canadian counterpart Stephen Harper that discussions at the two-day Asia-Pacific Economic Cooperation (APEC) summit starting Monday would offer "a sense of whether that timetable is feasible".
"But our sense is that it may take longer than that time horizon of the end of the year," Najib added.
US Trade Representative Michael Froman had said Saturday negotiators made "significant progress" on sensitive issues after negotiations with counterparts in the Indonesian island of Bali before the APEC summit.
US President Barack Obama has said he wants to reach an accord by the end of this year on the free trade area, which would account for more than 40 per cent of the global economy.
The United States has spearheaded negotiations for the TPP, describing it as creating "gold standards" for the 21st century economy by taking into account fast-changing sectors such as intellectual property.
However, there has been resistance from various members within the group of 12 nations to many provisions within the TPP, and analysts believe a deal matching US ambitions by the end of this year is impossible.
The pact would bring together the economies of the United States, Australia, New Zealand, Japan, Singapore, Malaysia, Brunei, Vietnam, Chile, Canada, Mexico and Peru.
China, which has not been invited to join TPP talks, is pursuing a rival free trade deal involving 16 Asia-Pacific countries.
The United States has used the trade deal as part of its so-called strategic "pivot" to the Asia-Pacific, emphasising the economic benefits for the region if it goes ahead.
But its commitment to the region has been questioned after Obama cancelled his trip to Southeast Asia for the APEC and East Asian summits to focus on resolving the government shutdown in Washington.