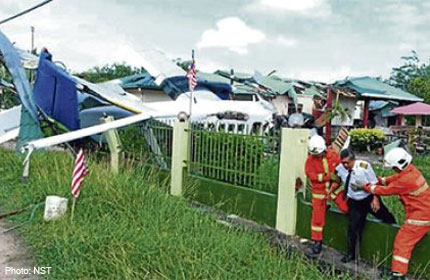 KUDAT - Moments before the aircraft crashed, Erwanshah Einin closed his eyes and thought he was going to die. The 19-seater Twin Otter aircraft clipped some trees, hit the roof of a house and spun before stopping in Kampung Sin San here.
After missing the runway by about 200m, Erwanshah said only chaos ensued.
"Passengers were screaming, there was so much smoke, the engine was still running and one of the propellers was still spinning.
"I knew I was alive and knew I had to get out of there fast," said the 23-year-old factory clerk who was on his way back to Sandakan from Kota Kinabalu. The flight was scheduled for a short transit here.
Erwanshah, who was seated in the third row from the front, said he managed to open the front door.
"I helped a woman who was screaming that she could not get her safety belt off from her and a child seated nearby.
"I got them out of their seats and they exited through the rear while I went to help the two pilots in front."
He found them in their seats and also discovered that the front of the aircraft had been ripped open.
Another passenger, Junaini Bladi, 52, said the pilots and a few passengers were helped by rescuers, who came within minutes of the crash.
"I can't remember much but knew something was not right when the aircraft could not land the first time and turned towards the sea before making another attempt.
"Then there was a big jolt and I saw things being strewn all over before a loud crash. After that, I became unconscious and followed what people told me to do," she said at the district hospital.
Junaini, from Saratok, Sarawak, had flown from Kuching and was on her way to Sandakan to see her husband.
Suriyati Masair, 38, and her son, Fahrulrazi Qayyum, 11, were in the living room watching television when the aircraft hit the roof of her home and damaged the kitchen, dining room and fence of the single- storey house.
"What scared me was the propeller blade, which was still spinning. I quickly got my son out through one of the rooms which has an exit at the back of the house.
"I saw some passengers who managed to climb out of the wreckage. They looked dazed.
"One asked for a pair of scissors as he wanted to help cut the safety belt of some of those stuck in their seats. I also led some of them to the road for help."
Suriyati lives with her husband, Qayyum Amirdad, 51, and four children at the house about 200m from the runway. The two are separated by a stream and thick bushes. The airport is about six kilometres from the town.