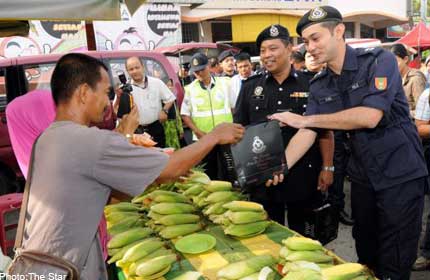 ALOR SETAR - Actor Farid Kamil donned a police officer's uniform and mingled with traders in a campaign to educate the people on crime prevention.
He was joined by Kota Setar district police officers for the High Profile Policing (HPP) programme in Pasar Tani Langgar here on Monday.
Farid, 32, known for his role in movies such as Evolusi KL Drift and Legenda Budak Setan, spent about 30 minutes meeting traders.
He was accompanied by Kota Setar Public Order and Traffic chief Deputy Supt Jamil Ahamid.
Farid said the programme was the third that he attended since last year.
"I joined the programme through the General Operations Force (PGA) 2nd Battalion in Kulim last year," he said, adding that he attended the first HPP programme in Langkawi.
Farid called on more members of the entertainment industry to join the HPP under the Police Volunteer Reserve.
He said besides helping to educate the public on crime prevention, the artistes could also learn self-defence skills and boost self-discipline through the programme.
DSP Jamil concurred. "This is part of our hope to educate the public on safety, and by involving local artistes, more people may be attracted to join the programme," he said.
DSP Jamil said the district police would be conducting more community policing programmes soon.