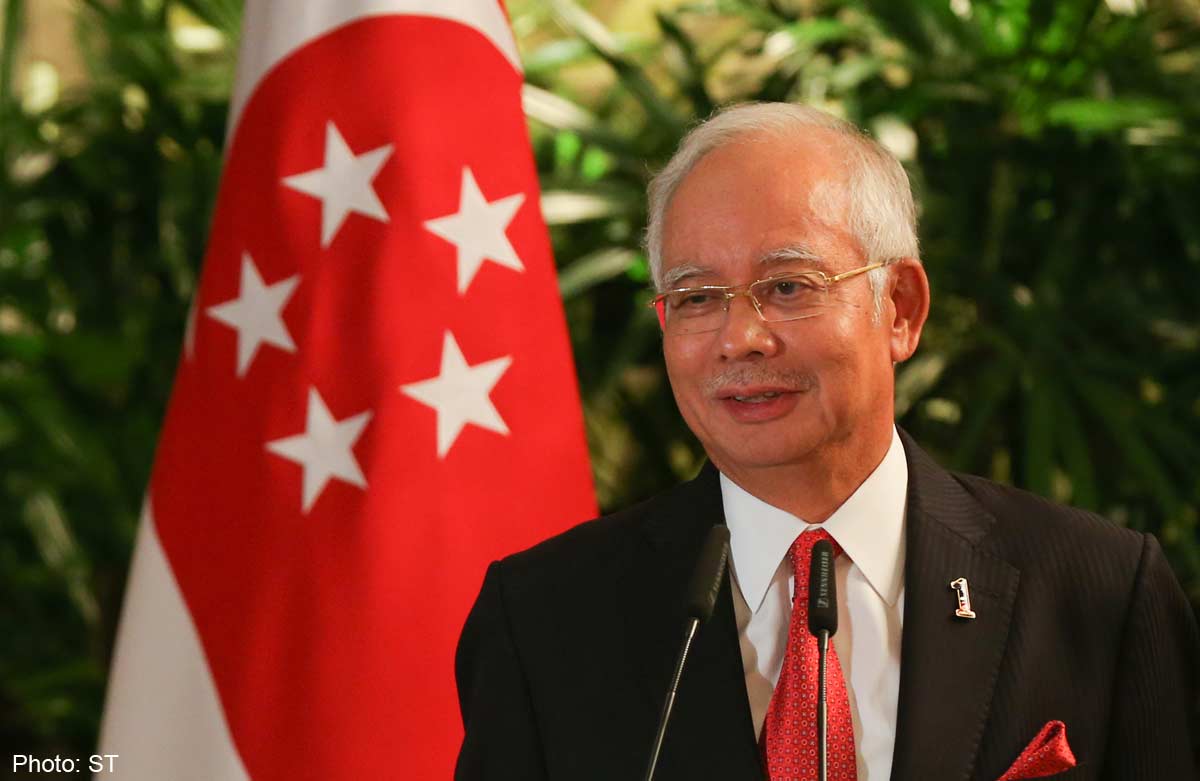 Round One has gone to Prime Minister Najib Razak in his battle to remain in office. But the knives are still out for the beleaguered leader and analysts remain split on his prospects despite the display of unity by the Umno supreme council.
On Monday, Datuk Seri Najib said the party's supreme council had renewed its support for him and his deputy, Tan Sri Muhyiddin Yassin. He also disclosed that he had had a heart-to-heart talk with Mr Muhyiddin and that they were inseparable.
This was aimed at putting to rest widespread rumours and speculation that his deputy was spearheading a campaign to oust him, possibly even at the meeting of the party's apex body on Monday.
Some analysts think the prime minister, under intense pressure over the debt-laden state investment fund 1Malaysia Development Berhad (1MDB), may have secured only temporary respite.
Penang Institute fellow Wong Chin Huat said many are sceptical about Mr Najib's promises especially after the controversial land purchase deal between 1MDB and pilgrimage agency, Tabung Haji.
"Najib seems to have his party behind him for the moment. Even Muhyiddin seems to be forced to show unity with him. This is, however, no guarantee for peace. Tabung Haji may have crossed the line of public tolerance, especially for the Malay-Muslims."
Mr Wong also said former prime minister Tun Dr Mahathir Mohamad would continue his attacks against Mr Najib.
"1MDB's crises won't go away with Umno backing Najib. If Mahathir manages to turn the tide gradually, pressure may mount again within the party."
Director of the Asia Institute at the University of Tasmania James Chin described the Umno supreme council's declaration as a stopgap for Mr Najib.
"The public support in Umno's supreme council does not mean anything. During former prime minister Tun Abdullah Ahmad Badawi's time, the Umno supreme council also supported him, but ditched him within one year after the 2008 general election."
While the supreme council is the penultimate decision-making body in the party, Mr Chin said the support of Umno warlords and grassroots were critical for any leader. "If there is enough pressure building up, then the supreme council will move against Najib. It has not reached that point yet.
"Najib still has the upper hand because he has been giving out patronage to all the party division chiefs.
"The real barometer will be when Mahathir goes on his road show - the bigger the crowds, the bigger the headaches for Najib, Umno supreme council and the warlords."
Both Mr Najib and Mr Muhyiddin were in the supreme council when Mr Abdullah was party president. Mr Muhyiddin was seen as the catalyst that led to Mr Abdullah's downfall because he openly called on him to step down. Many expect him to be the main protagonist again in the current political drama.
Party insiders say Mr Muhyiddin's camp is already vetting candidates to be his No. 2 if he assumes the party presidency.
But there are also analysts such as Mr Lim Teck Ghee, director of the Centre for Policy Initiatives, who believe Dr Mahathir and Mr Muhyiddin lack the clout to bring Mr Najib down.
Mr Lim said: "In contrast to the galaxy of heavyweights in the country's political dynamics that Najib is able to mobilise, Dr Mahathir - now that he is out of power and unable to command or buy up support - can only count on a small group of bloggers, retired politicians and civil servants."
asruls@sph.com.sg

This article was first published on MAY 13, 2015.
Get a copy of The Straits Times or go to straitstimes.com for more stories.