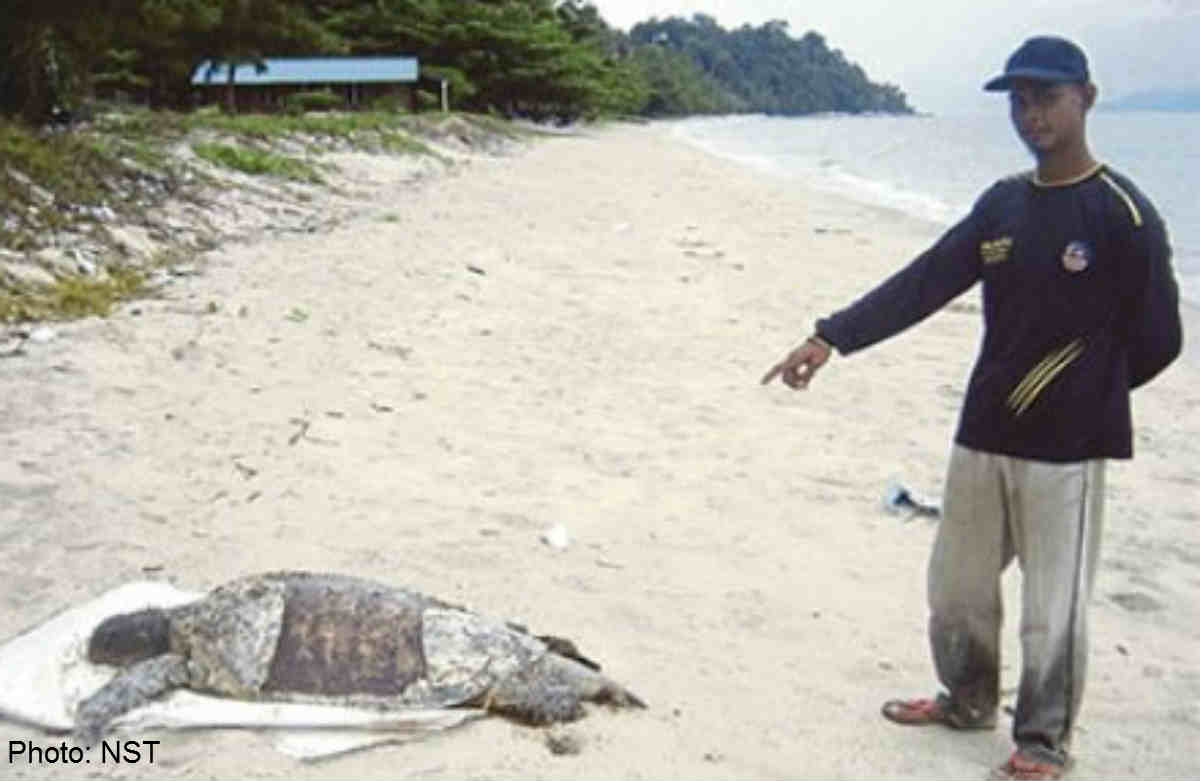 LUMUT - An endangered green sea turtle (Chelonia mydas) has been found dead in the waters off Teluk Senangin near here two days ago. It was believed to have been hooked by a fishing line.
Sahabat Alam Malaysia field officer Meor Razak Meor Abdul Rahman said the male turtle, believed to be around 30 years old, was found floating in the sea by a fisherman.
The fisherman, Mohd Saufi Ahmad, claimed that the 1m-long carcass was found with a strand of fishing line in its mouth.
Meor Razak said both of them had notified the Perak Fisheries Department of the discovery, adding that the department had yet to collect the carcass from the beach.
"Saufi and I had reported the finding to a state fisheries officer at the Pasir Panjang turtle rehabilitation centre. After documenting the condition of the carcass, the officer determined that the turtle had been dead for four days before it was found by Saufi."
Meor Razak said the department should have taken the turtle's carcass to conduct further investigations.
"The post-mortem is important as the green sea turtle is categorised as an endangered species on the International Union for Conservation of Nature's (IUCN) red list of threatened species."
He said the incident illustrated how important it was to preserve the natural condition of Pasir Panjang beach, which was the state's last turtle-landing site. He added that the department should ban fishing at designated areas of the beach, especially during the egg-laying season which runs from March to June.
"Sea turtles run a high risk of injuring themselves on fishing lines during the egg-laying season as more of them come to the beach to lay eggs. A reduction or ban on fishing activities along the turtles' nesting grounds will be sufficient to reduce this risk without hurting the fishing industry."
Meor Razak urged the state government to halt the development of two industrial plants in the neighbouring Tanjung Hantu area.
Announced last year, the projects were believed to be a liquefied natural gas plant and a steel coil mill.
Construction work on both have not been carried out.
"If these projects are built, the lights and sounds from the buildings and factories will drive the turtles away as they are very timid and sensitive creatures.
"The government needs to stop development in this area if it wants to keep the only remaining turtle landing site in the state," he said.