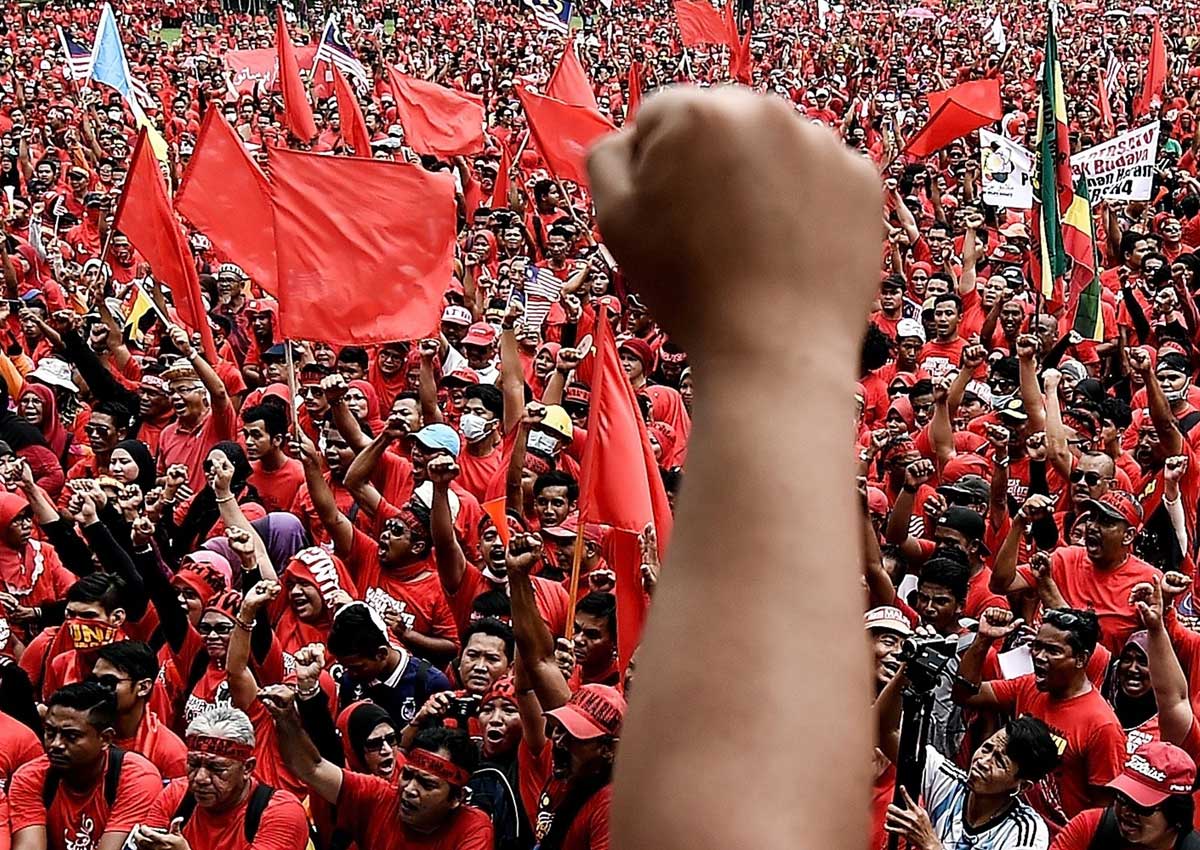 KUALA LUMPUR - Tens of thousands heeded the call to support Prime Minister Najib Razak against demands by electoral reforms group Bersih for him to step down, but Wednesday's "red shirts" rally ended up focusing on affirming Malay rights rather than Datuk Seri Najib's leadership.
Indeed, the rally was a clear indicator of how strong the Prime Minister's grip on his ruling party Umno is. But it gained him little favour with critics and non-participants, what with some groups turning unruly and scuffling with riot police. It also failed to address the allegations against him.
Mr Najib has faced challenges on numerous fronts since having to fend off charges - from even within his own party - of financial misappropriation in debt-laden state investor 1Malaysia Development Berhad (1MDB), whose advisory board he chairs. Additionally, he is suspected of receiving US$700 million (S$980 million) linked to 1MDB that was deposited into his private bank accounts.
While Mr Najib has since eliminated the internal threats by dropping the party's deputy president Muhyiddin Yassin and a vice-president from his Cabinet and replacing the Attorney-General and head of police intelligence in July, his actions contributed to shrinking confidence in the economy due to anxiety over governance issues.
It was this last straw that prompted Bersih to announce its Aug 29-30 rally as it accused the Prime Minister of "taking every possible move to protect corruption" and putting at stake "the credibility of the very institutions of government".
But the massive turnout of mostly ethnic Chinese in yellow T-shirts at the Bersih event quickly took on racial overtones, with pro-Najib voices calling it an attempt to usurp the Malays' political power.
There was an undoubted irony when Mr Najib's biggest critics - influential former prime minister Mahathir Mohamad and Mr Muhyiddin, two men known for their pro-Malay stance - spoke out against the red shirts rally. But their criticism was clearly meant to undermine support for Mr Najib.
The Prime Minister has repeatedly disclaimed responsibility for the rally but stopped short of barring Umno members from taking part. The numerous national and grassroot-level party chiefs seen on Wednesday mobilising and leading the large turnout of red shirts showed that Mr Najib's authority was still solid despite internal dissent.
A Hong Kong-based analyst, Professor William Case, told The Straits Times that "in the tug of war for control of Umno... this will likely strengthen his (Najib's) hand".
But Mr Oh Ei Sun, from the S. Rajaratnam School of International Studies, said that such rallies, Bersih's included, rarely swayed voters but instead "reinforce voters' existing preferences".
He also noted that control of Umno is often conditional as there are "purse strings attached", with "political wannabes trying to curry favour".
Tellingly, many who took to the stage at Padang Merbok - the final assembly point - pressed the prime minister to revive the controversial Internal Security Act that his government had repealed in 2012.
Poll findings released by the independent Merdeka Center on Tuesday, the eve of the rally, showed that only 24 per cent of Malays supported it, with fear of trouble the main reason given to stay away. That some red shirts bullied their way past police lines to enter Bukit Bintang and later clashed with riot police in front of Petaling Street, would scarcely have endeared them to the wider Malay community. The two areas, seen as symbols of Chinese business, had been declared off-limits ahead of the rally.
Merdeka Center's executive director Ibrahim Suffian said those who were not for the rally would be further turned off by the violence and lack of discipline.
"Anybody trying to do a political act like a mass demo has to ensure it is broad-based, otherwise it is counter-productive. But among the many audiences for this rally, it is a response to, first and foremost, the party," he told The Straits Times. 
shannont@sph.com.sg

This article was first published on September 18, 2015.
Get a copy of The Straits Times or go to straitstimes.com for more stories.