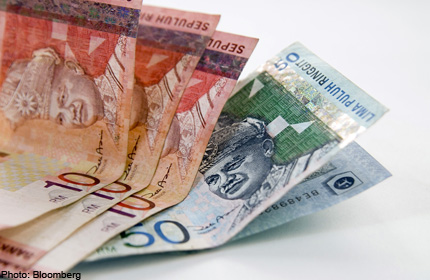 KOTA BARU - Fugitive Harun Mat Saat, a self-proclaimed deity presiding over worldly affairs, a man with many monickers and wanted by the police, the religious authorities and Bank Negara, is also being hunted by relatives who had allegedly been duped into investing their hard-earned money in his so-called get-rich-quick schemes.
His name is despised by his relatives in Kampung Jelutong, Kok Lanas, who claimed they had been swindled in his quick-money schemes in 2008.
Against a backdrop of padi fields in this quaint and peaceful town is a huge bungalow, said to have been abandoned for more than a year, where the so-called Tuhan Harun, wife Jawahir Zakaria and their three children had purportedly lived.
Retired soldier Adnan Abdullah, 50, a cousin of Jawahir, claimed he invested RM100,000 (S$38,925) in Harun's schemes that promised returns of RM50,000 in less than 12 months.
"He told me the scheme was Islamic-compliant and halal and since he is the husband of my cousin, I felt convinced and made the investment," he said of the glib talker, who was also a rock singer, composer, stage performer, religious teacher and alleged confidence trickster.
"I realised I had been duped after I checked my bank account and found the promised returns had not been debited into my account," said Adnan, who is unmarried.
Fatimah Ismail, 54, another of Jawahir's cousins, said she was left with nothing but a heavy burden after she invested RM110,000 of many years of saving in Harun's scheme.
"It took years for me and the children to save the money to buy a house - only to see our hard-earned money disappear just like that," added the single mother, her voice choking with emotion.
Fatimah said Jawahir and Pahang-born Harun moved to Kampung Jelutong after they got married in the late 1990s.
"I had wondered what Harun did for a living, as they led a luxurious life, built a big house and drove expensive cars... until I was cheated," she said, hoping against hope to get back all of her money.
Fatimah, who lives near Harun's mansion, said she had not heard of Jawahir since they moved out from the bungalow last year.