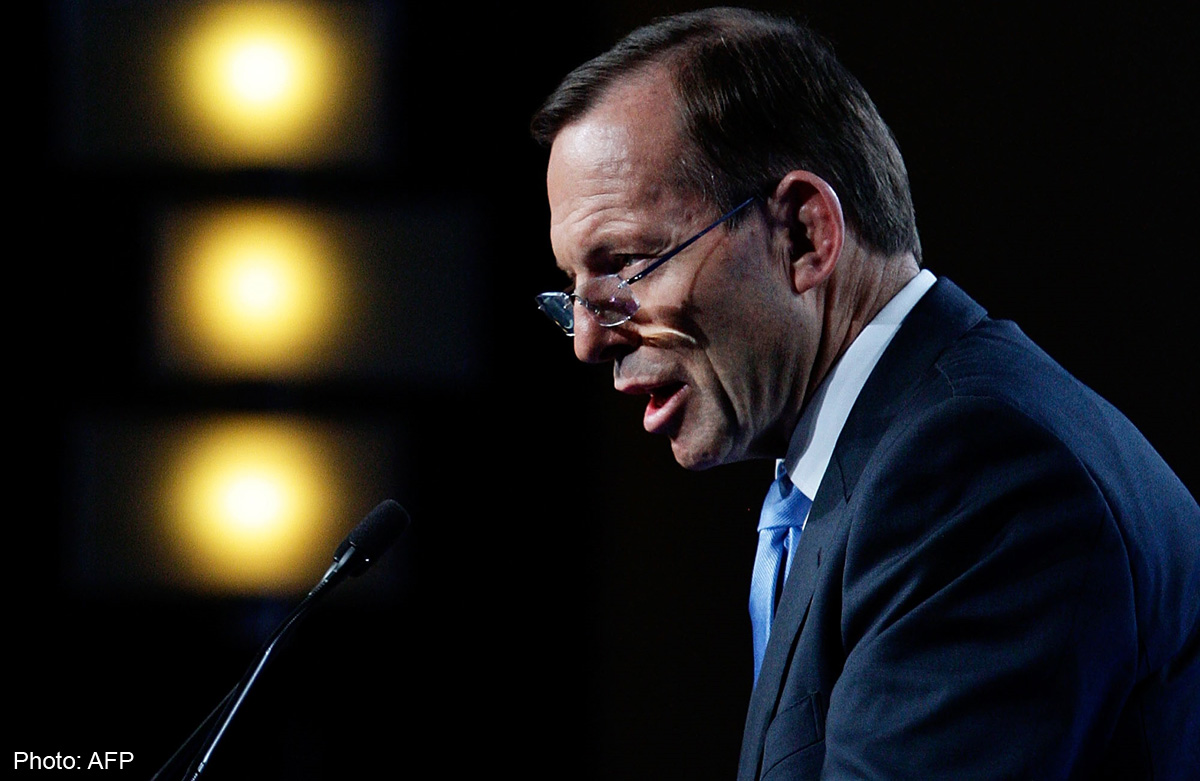 SYDNEY - The loss of a Malaysia Airlines plane over Ukraine was a crime not an accident, Australian Prime Minister Tony Abbott said Friday as he denounced Russia's response as "deeply unsatisfactory".
The airliner carrying 298 people, including 28 Australians, came down over rebel-held eastern Ukraine on Thursday, and US officials said it appeared to have been shot down by a surface-to-air missile.
"This is not an accident, it is a crime," Abbott said.
The Australian prime minister said Foreign Minister Julie Bishop had met with Russia's ambassador to seek a categorical assurance that that country would fully cooperate with an independent inquiry.
"The initial response of the Russian ambassador was to blame Ukraine for this, and I have to say that this is deeply, deeply unsatisfactory," Abbott told reporters.
"We all know that there are problems in Ukraine. We also know who is very substantially to blame for those problems.
"The idea that Russia can somehow say that none of this has anything to do with them because it happened in Ukrainian airspace frankly does not stand up to any serious scrutiny." Australia is pushing for a binding resolution at the United Nations Security Council calling for a full and impartial investigation and Abbott said the issue was a test for Russia.
"It's very important that we don't allow Russia to prevent an absolutely comprehensive investigation so that we can find out exactly what happened," he said.
"It's absolutely imperative that if Russia is to maintain any international standing at all, that there be complete Russian cooperation with this," adding the should be "no excuses, no buck passing, no blame shifting".
Abbott said he was angered by the tragedy - which cost the lives of many people en route to a global AIDS conference in Melbourne - and insisted that the perpetrators be found.
"This aircraft didn't come down through accident. It was shot down. It did not crash. It was downed. And it was downed over territory controlled by Russian-backed rebels," he said.
"I want to say to the Australian people that as far as I am concerned where you have a situation where Russian backed rebels appear to have killed Australians, using it may well turn out to be Russian supplied heavy weaponry, Australia takes a very dim view indeed." Abbott said a department of foreign affairs team would be departing soon for Kiev, and bodies would be repatriated as soon as possible while support would be offered to families.
Russian President Vladimir Putin is due to visit Australia in November for a G20 meeting.
Australia is leading the search for missing Malaysia Airlines Flight MH370 which is thought to have crashed into the Indian Ocean on March 8. No sign of the jet carrying 239 people has yet been found.