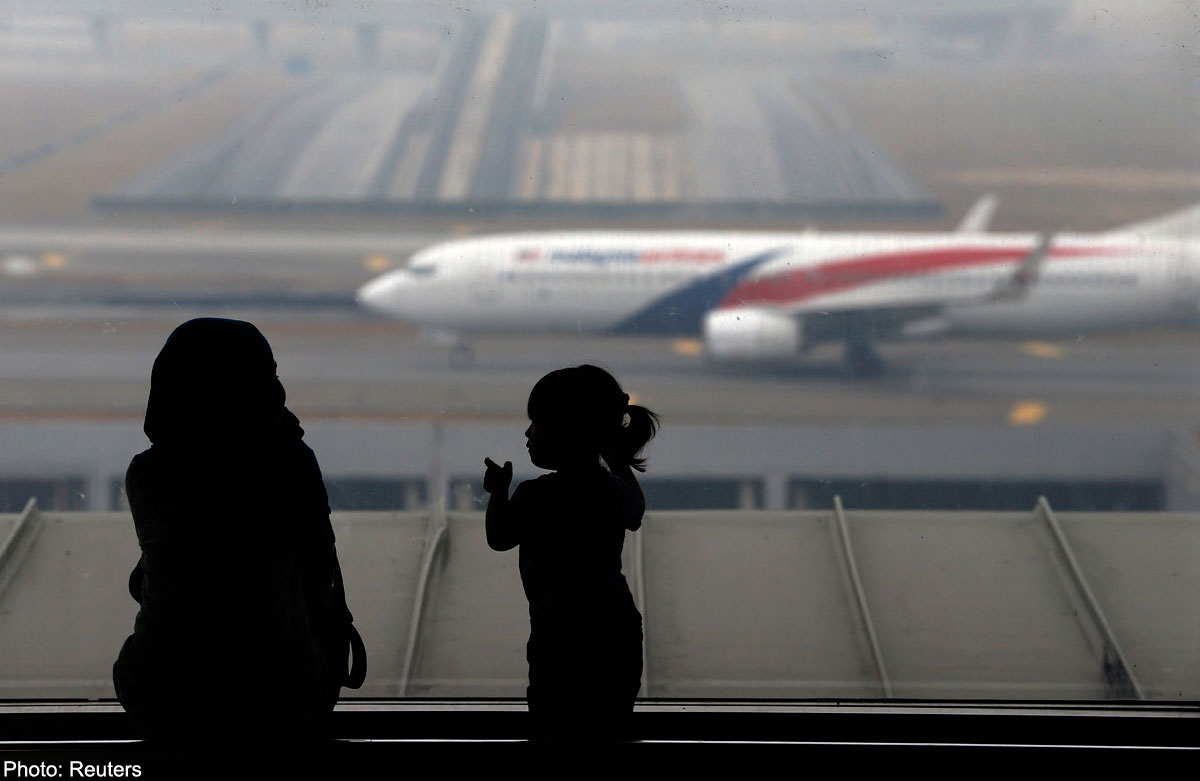 MALAYSIA - Early last month, Ms Shao Tingting forked out 8,000 yuan (S$1,600) to book a holiday in the eastern Malaysian state of Sabah for her family of three.
But Malaysia's handling of the the disappearance of Flight MH370 left her family so shaken and unhappy that she is now prepared to relinquish that tidy sum and their 10-day trip next month.
Making matters worse was recent news of the kidnapping of a Chinese national in Sabah by gunmen from the southern Philippines.
"We were very worried when the aircraft first disappeared and decided to cancel our trip and ask for a refund. They refused. But we still won't be going because we don't feel safe," Ms Shao, 35, a Chengdu native, told The Sunday Times.
Tens of thousands of Chinese like Ms Shao are similarly cancelling travel plans as the fallout from the MH370 incident casts a shadow on South-east Asia's tourism market, which is increasingly dependent on mainland tourists.
A significant drop-off in their numbers could cause economic losses in the hundreds of millions of dollars for restaurants, retailers and hotels, particularly in the coming weeks as China enters one of its three peak travel seasons, or what is known as "mini golden week" over the Labour Day holiday.
Malaysia, where mainland tourists are now the third-largest group of foreign visitors after Singaporeans and Indonesians, has borne the brunt so far.
The Malaysia Inbound Tourism Association said close to 30 per cent of Chinese tourists have cancelled their bookings to visit Malaysia this year.
However, some Chinese media reports have hinted at an even steeper plunge, citing industry players such as the Qianzhan Business Intelligence research firm as predicting a staggering drop of 400,000 to 800,000 Chinese tourists to Malaysia this year.
If accurate, this would be a major blow given that 1.79 million Chinese tourists visited Malaysia last year, up from 950,000 in 2008.
Singapore, which is one of the destinations along the Singapore-Malaysia-Thailand route popular with mainland tourists, is already reporting some collateral damage.
Some tour agencies said they have seen the number of Chinese tourists drop by over 50 per cent in some instances.
Chinese tourists have become Singapore's second-largest visitor market, with 1.24 million of them visiting in the first half of last year.
"With Malaysia out of the line-up, it's also now much harder to link up with Singapore in the travel itineraries," said an employee at Beijing China International Travel Service (CITS), who wanted to be known only as Ms Zhang.
With no breakthrough in sight on the search for the black box or wreckage of the missing Malaysia Airlines jetliner, fears are that the Chinese tourist slowdown might be a protracted one. Chinese national Xiao Hu, for instance, has cancelled her trip to Malaysia in June for her honeymoon.
"After the MH370 incident happened, I felt very anxious. she told Zhengzhou newspaper Dahe. "Now, whenever I think about taking a trip to South-east Asia, I feel very uneasy."
Already, many Chinese travel agencies have pulled their Malaysia tours off the market completely or offered discounts for them as travel demand plummets.
Others have altered their South-east Asia tour packages to exclude Malaysia, but these have also seen lower interest.
At the CITS, for instance, the once popular Singapore-Malaysia-Thailand route is no longer offered. In its place is either a Singapore-Thailand itinerary, or an option to travel to just Thailand alone.
Over at the Beijing office of BTG International Travel and Tours, an employee told The Sunday Times: "We haven't even had one inquiry from anyone interested in travelling to Malaysia since the plane disappeared."
Industry experts, however, say demand will likely pick up again.
"The knock-on effect from the MH370 incident will gradually weaken and things could go back to normal in about a year," a spokesman for Qianzhan told The Sunday Times.
Meanwhile, Malaysian tour operators dealing mostly with Chinese tourists are putting on a brave face.
The prevailing sentiment is generally positive. They blame the downturn mostly on the current off-peak season from China.
"The saying in Chinese is work during spring and enjoy life during winter," said Mr Tai Poh Kim, secretary of the Malaysian Chinese Tourism Association, which groups some 600 tour operators.
He says the peak season in Malaysia for Chinese tourists is from October to Chinese New Year, to escape the cold weather in China.
"Our guys are just keeping quiet to let things cool down," Mr Tai told The Sunday Times. "There are also lots of postponements, not just cancellations. But it will pick up because actually, China-Malaysia relations are not so bad."
"Definitely emotions are still strong, but operators have other markets to tap into, like Thailand and Indonesia. Many tourists still come from there," said Mr Wong Hing Tuck, a China market tourist guide and spokesman for the Malaysian Tourist Guides Council.
"The markets affected are the lower income and less educated groups, but the higher income markets are still coming," he added.
Additional reporting by Lina Miao
esthert@sph.com.sg
lestkong@sph.com.sg
This article was published on April 20 in The Straits Times.


Get a copy of The Straits Times or go to straitstimes.com for more stories.