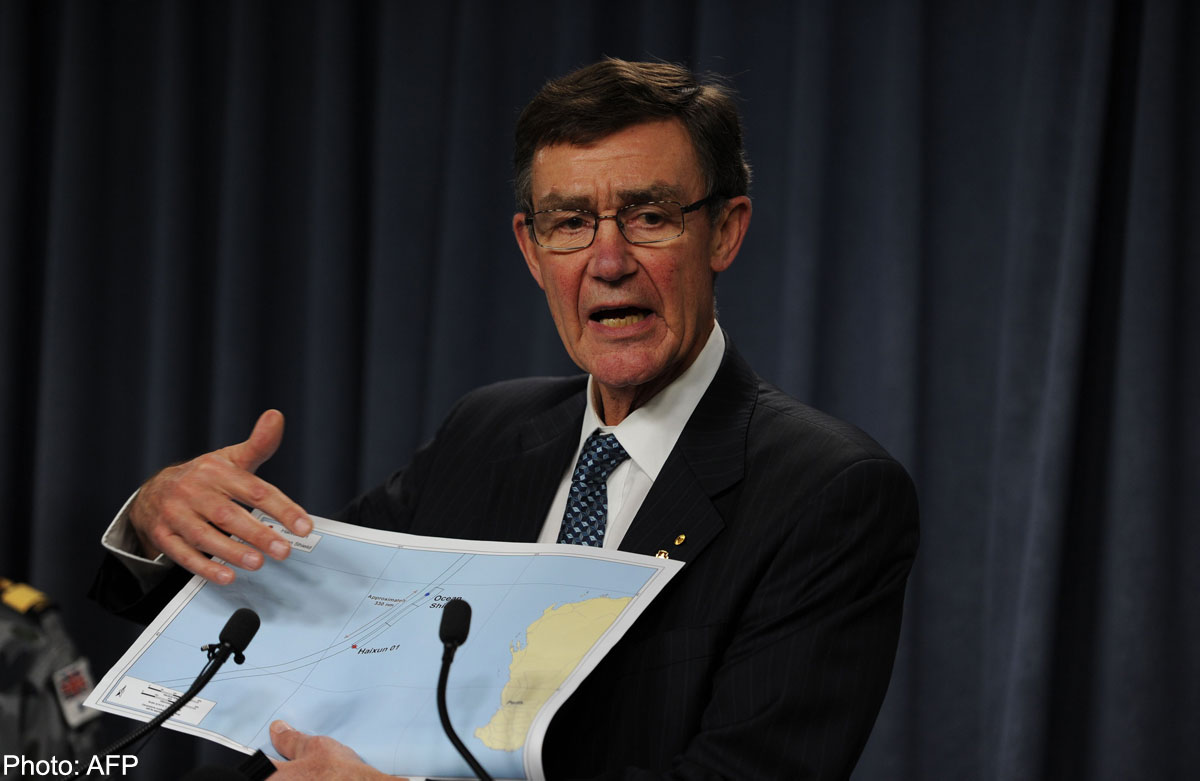 PERTH, Australia - An Australian navy ship has detected new underwater signals consistent with aircraft black boxes, the chief of the MH370 search said Monday, calling it the "most promising lead" yet in the month-old hunt for the missing plane.
Retired Australian defence force chief Angus Houston said the acoustics emanating from deep down in the Indian Ocean showed that the multinational search by ships and planes seemed to be "very close to where we need to be".
The apparent breakthrough comes as the clock ticks past the 30-day lifespan of the emergency beacons of the two data recorders from the Malaysia Airlines jet, which vanished March 8 with 239 people on board en route from Kuala Lumpur to Beijing.
"The towed pinger locator deployed from the Australian defence vessel Ocean Shield has detected signals consistent with those emitted from aircraft black boxes," Houston told a press conference.
He said more information is needed but called the findings of the past 24 hours "very encouraging".
'Best information yet'
One signal lasted for two hours and 20 minutes, the second for 13 minutes.
"On this (second) occasion two distinct ping returns were audible," Houston said, adding that was consistent with transmissions from both the flight data recorder and the cockpit voice recorder, which have separate beacons.
"This is a most promising lead and probably in the search so far it's probably the best information that we have had," Houston said.
Malaysian Transport Minister Hishammuddin Hussein told reporters in Kuala Lumpur: "We are cautiously hopeful that there could a positive development in the next few days, if not hours."
The Malaysian government and the state flag-carrier have come under severe criticism for the unprecedented loss of a jumbo jet.
Commander William Marks of the US Seventh Fleet said one of the signals strengthened for a time, then weakened, indicating crews were near its source.
"That is encouraging because that is what you would expect if you are indeed moving toward the black box - that it should get stronger and as you move away from it, it should get weaker," he told AFP.
Malaysian investigations into the aircraft's disappearance have centred on hijacking, sabotage or psychological problems among passengers or crew, but no supporting evidence has turned up.
In the absence of confirmed wreckage, the data recorders or other evidence, relatives of those aboard - most were Chinese - have endured an agonizing wait for information.
'Nothing happens fast'
Given the sensitivities of the next-of-kin, and false hopes raised previously, Houston said the latest developments must be treated cautiously, adding it could take a long time before the pings can be confirmed as from MH370.
"In very deep oceanic water, nothing happens fast," he said.
The Ocean Shield is using a "Towed Pinger Locator" lent by the US Navy. The Australian vessel and Britain's HMS Echo had been scouring separate ends of a 240-kilometer (150-mile) track, converging on each other, when it detected the acoustic noise.
The ships must operate at a significantly reduced speed to plumb depths of three thousand meters (9,850 feet) or more.
Houston's Joint Agency Coordination Center (JACC) said that in total up to nine military aircraft, three civilian planes and 14 ships continued scanning the area 2,000 kilometers northwest of Perth for any floating debris.
The latest acoustics were picked up after the Chinese vessel Haixun 01 had twice picked up a signal - on Friday and Saturday - about 300 nautical miles away on a frequency used for aircraft recorders.
Houston said the ocean can range up to five kilometers deep in the area, meaning "any recovery operation is going to be incredibly challenging and very demanding and will take a long period of time".
He noted that when Air France Flight 447 plunged into the Atlantic in 2009 it took two years to find the black box on the ocean floor - long after wreckage was found in the immediate aftermath.
"Essentially this (MH370) has been done without finding any wreckage thus far and I think it's quite extraordinary, and what I would like to see now is us find some wreckage," he said.
Marks, of the US Seventh Fleet, said if "conclusive evidence" can be drawn after re-acquiring the signals, a US-made submersible sonar device called the Bluefin-21 would be deployed to scan the seabed.
"So it is encouraging, but once again a long way to go, and it could be days, it could be weeks, it could be months," he said.