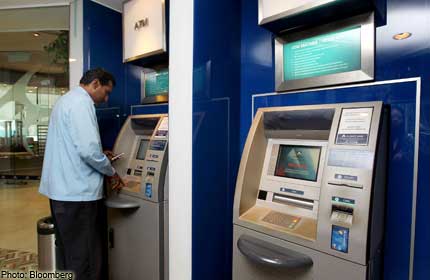 PETALING JAYA - A proposal to install cash protection devices (CPDs) to deter thefts at automated teller machines has been well received by security experts, who believe the measure could also reduce cash-in-transit (CIT) robberies.
According to Asian Professional Security (Apsa) secretary-general Datuk Seri Mustapa Ali, local security companies should also use the CPDs when transporting cash to banks and ATMs.
"Security guards, who are confronted by robbers, could trigger the dye-bombs before throwing the defaced currency out of their vehicles, or the device could be triggered automatically when bags of cash are opened by unauthorised individuals," he told The Star yesterday.
Mustapa, who is also Apsa Malaysia president, said the measure was a good deterrent and could save the lives of guards as they need not worry about protecting the money once the device had been activated.
"The money would have been marked by then," he said.
Mustapa said Bank Negara Malaysia's proposal to install the CPDs in ATMs was a step in the right direction as there were too many cases of thefts at ATMs, of late.
There were 45 ATM thefts so far this year, mostly in the Klang Valley.
A CPD works by emitting a brightly coloured dye to permanently stain the notes in the event that the ATM is tampered with.
The dye is easily visible to the naked eye, and this enables the public to easily identify stolen currency.
Corporate Risk Consulting Sdn Bhd managing director Siti Subaidah concurred with the move, saying it was a good option.
"It's about time," she said. "It should be introduced as long as the dye is not a health hazard."
Siti, who is also the immediate past president of the World Association of Detectives, pointed out that while there were no fool-proof measures to prevent thefts, CPDs could help police track down the culprits easily.
There are 9,000 ATMs nationwide, and the 27 financial institutions are considering measures to discourage the rampant ATM break-ins.
Industry sources told The Star yesterday that the Association of Banks Malaysia was expected to receive a demonstration on the dye-packs produced by local company Extro Code Sdn Bhd some time this month.