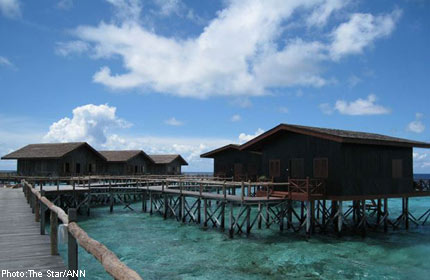 KOTA KINABALU - Security is on high alert as a massive sea and air hunt was launched for Filipino gunmen who abducted a Taiwanese tourist and shot dead her husband at an island resort off Semporna.
No demands have been made by any armed group for the 58-year-old woman identified as An Wei Chang. Her 57-year-old husband, Lim Min Hsu, was found dead with two bullet wounds on his chest.
The gunmen who arrived in a pump boat and raided Pom Pom Island and Spa Resort water villas at about 1am Friday had fled toward Pulau Mataking close to southern Philippines.
There were no immediate signs of the gunmen who staged the daring raid at the resort hardly a kilometre away from a General Operations Force base.
The security forces have cut off all sea routes into neighbouring southern Philippines.
According to sources, security forces are trying to establish the group involved in the shooting and kidnapping.
Senior security officials have remained tight lipped over the on going operations while some sources said that they were trying to establish if the gunmen came from southern Philippines.
The latest incident sent fresh shockwaves among Sabahans especially after the setting up of the Eastern Sabah Security Zone (ESSZONE) following the Feb12 Sulu intrusion into Kg Tanduo in Lahad Datu.