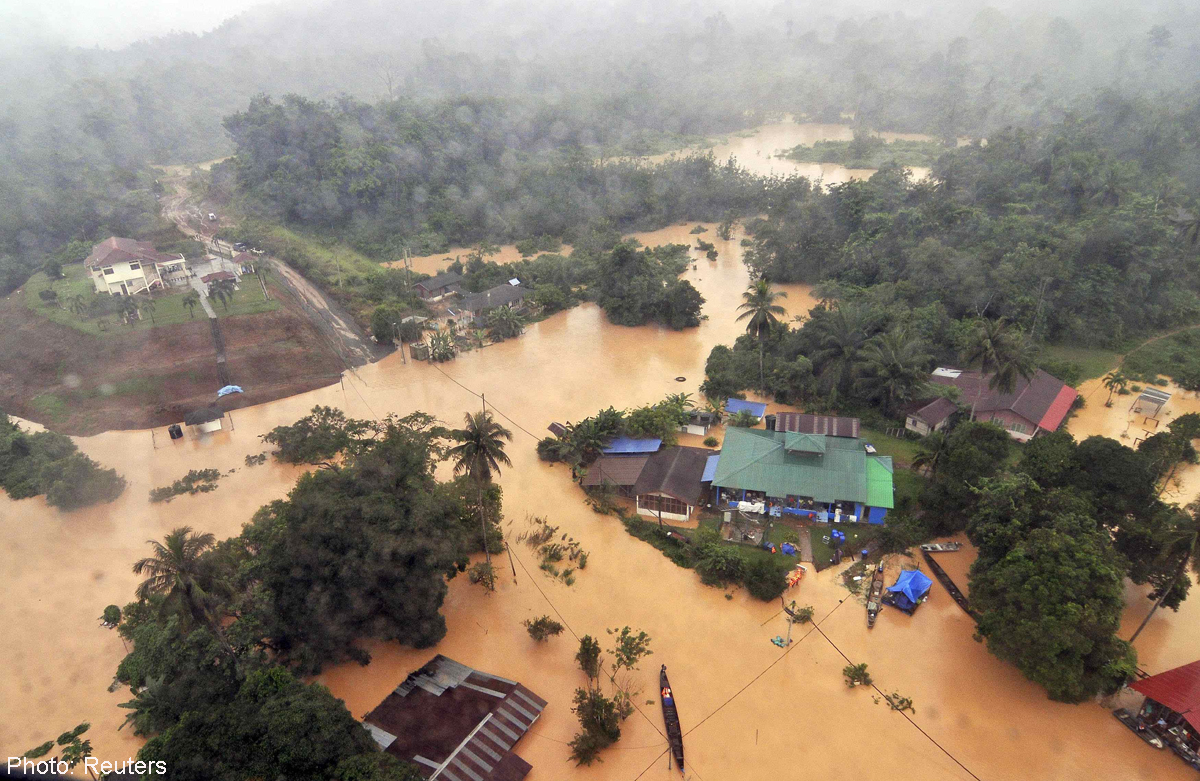 KUANTAN - Eight districts in Pahang are badly affected by the floods which saw 37,389 people from 9,065 families displaced from their homes.
Topping the list was Temerloh with 15,366 people from 77 villages, followed by Jerantut with 6,025 people from 52 villages, and Pekan with 5,108 people from 40 villages.
The figures are expected to climb due to continuous rainfall, with the Malaysian Meteorological Department issuing a warning on heavy rain and strong winds for the next 48 hours.
Other affected districts were Maran (3,690 people from 41 villages), Kuantan (2,277 people from 30 villages), Lipis (2,428 people from 32 villages), Bera (2,426 people from 14 villages) and Rompin (29 people from two villages).
A total of 244 flood relief centres have been opened to provide shelter to affected residents since the start of the floods - said to be the country's worst so far.
Continuous rain over the last 24 hours also saw Temerloh and Mentakab towns inundated with knee-deep waters.
Elsewhere, seven major rivers in the state had not only breached their respective danger levels, but are continuing to swell.
As of 2pm, Sungai Yap in Jerantut recorded 55.09m (danger level 52m) while Sungai Pahang at Kampung Chenor and Lubuk Paku - both in Maran - hit 26.72m (23.50)m) and 21.79m (19m), respectively.
Other rivers on Red Alert include Sungai Tembeling at Kuala Tahan (77.52m), Sungai Pahang at Paloh Hinai, Pekan (12.28m, or nearly double its normal level of 6.5m), Sungai Pahang at Lubuk Pasu, Temerloh at 36.21m (33m) and Kuala Sungai Chini at 17.32m (14.90m).
All the river levels are measured in relation to the mean sea level.
Five other rivers - Sungai Jelai in Lipis, Sungai Kuantan near Pasir Kemudi and Kuantan bypass, Sungai Belat and Sungai Triang - are at the "alert" level, just a step below "warning" level.
Anih Bhd, the concessionaire for East Coast Expressway, said flooding at the 126th kilometre of the road that affected a 800m-stretch had yet to subside, while intermittent rain has been present since Sunday evening.
Alloy MTD head of communications Fazlyaton Hussein said as a precautionary measure, another stretch - the 76th km from Karak to Kuantan - had to be closed to all traffic.
"Flood waters have yet to subside and it is dangerous for all vehicles. Personnel are being stationed to divert traffic," she said, while urging road users to adhere to advice.