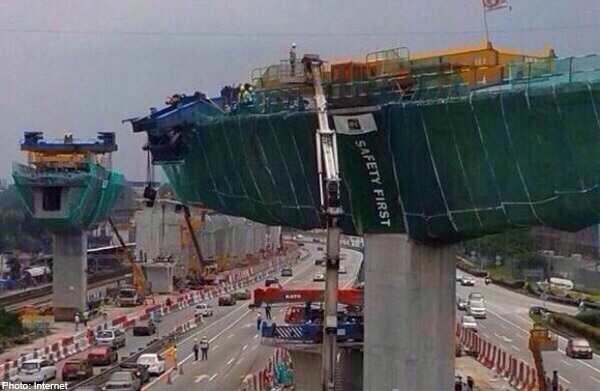 PETALING JAYA, Malaysia - Photos of a "falling" Light Rail Transit (LRT) beam has been circulating on social media, causing a stir among netizens.
However, a spokesman for the LRT extension project has confirmed that there was nothing unstable about the LRT beam in front of the Subang Parade, giving his assurance that the surrounding roads are safe for use.
It is learnt that vehicles heading to Shah Alam through the Glenmarie-Subang route had to be diverted at about 3pm due to an incident involving a gantry crane on Saturday.
However, the roads had been cleared and reopened as of 9pm, Saturday.
The spokesman said the contractors were preparing for night work to lift concrete blocks when they noticed an "anomaly" with the gantry crane at about 2pm.
"As soon as they discovered the anomaly, their mission was to bring the crane down.
"We had to close down the roads to prevent harm on road users," he added.
The spokesman said it was only the Federal Highway that was affected by road closures but traffic has since cleared up.
"It wasn't a full closure but it caused congestion.
"We apologise for any inconvenience caused to road users," he added.
The spokesman explained that investigations into the "anomaly" are still ongoing.