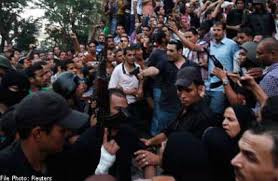 PETALING JAYA - Malaysian students are having mixed feelings about leaving Egypt after the Prime Minister announced an evacuation from the country which was in turmoil since last Wednesday.
The first batch of evacuees would be arriving at the Kuala Lumpur International Airport today.
Muhamad Faris Muhamad Asri (pic), 22, who studies at the Cairo University, said that he had been waiting at Dewan Malaysia Abbasiah Kaherah in Cairo, a hall where students are gathered before leaving for Cairo Airport to catch their plane out to Malaysia, since Tuesday night.
The fourth-year student said that he was still in shock as "everything happened so fast" since reading the news on the evacuation on Facebook.
He said that he initially did not plan on returning home, but now his family would be happy as they had been urging him to return to Kedah.
He said that there were no clashes or demonstrations at Sayeda Zainab, where he was staying, although it was about 2km from Tahrir Square.
"However, for the past four days I have seen hundreds of corpses at the Zeinhoum morgue which is in front my house.
The scene shook me a little into leaving," said Muhammad Faris who was still waiting for details of the flight out of Egypt yesterday.
Al-Azhar University's third-year medical student, Nurul Afifah Rosman, 21, said that although she would feel safe back home, she still felt sad about leaving Egypt.
"My parents are worried about me. Things are unpredictable here. Some days the locals will protest and sometimes they are no protests," she said.
Another student Ahmad Aizzuddin Daud, 22, said that he would be leaving Egypt with a heavy heart.
"When you are in a place for some time, it is hard to let it go.
"But I am also relieved knowing that in Malaysia, we will have something to do. For the past month, it was hard to organise and to join in any activities here due to security reasons," he said.
Meanwhile in Putrajaya, Prime Minister Datuk Seri Najib Tun Razak assured the families of Malaysian students in Egypt that the Government would do its best to bring them home.
He said that he had instructed those tasked with the evacuation exercise to book as many flight seats for them as possible.
"I cannot say how long the evacuation will be but we will try to get as many seats as possible on commercial flights," he said after attending the Raya open house organised by the Prime Minister's Department.
Currently, about 3,300 students were still in Egypt. More than 200 flight seats have been booked for their return home.
Najib added that Foreign Minister Datuk Seri Anifah Aman had written to members of the Organisation of Islamic Cooperation (OIC) proposing a special conference to resolve the conflict.
"This is among our roles and I am expecting calls from leaders of the Arab nations in one or two days' time. In the meantime, Malaysia hopes there will be an immediate end to the violence that has caused a very high death toll," he said.