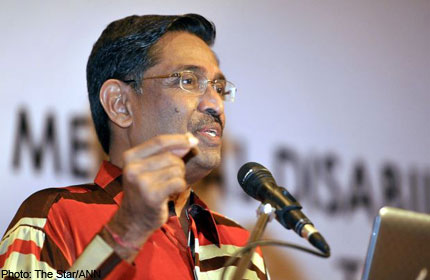 KUALA LUMPUR - Incumbent MIC deputy president Datuk Seri Dr S. Subramaniam is ready to face challengers for his post should any emerge during nominations this Saturday.
"It's a challenge that I need to face. I have already announced my candidacy," said the Health Minister while visiting patients in conjunction with Deepavali at Hospital Kuala Lumpur.
He pointed out that party president Datuk Seri G. Palanivel had already called for a no-contest for the deputy president's post.
The president's post was won uncontested by Palanivel on Sept 1.
The polls to elect a deputy president, three vice-presidents and 23 members of the party's central working committee will be held on Nov 30.
Former MIC vice-president Datuk S. Sothinathan ended speculation that he would vie for the deputy president's post by announcing his candidacy for the vice-presidency.
Sothinathan said he opted out of the race for the deputy president's post because it was in the best interest of the party and the Indian community.
He had previously contested for the deputy president's post in 2009, but failed in his bid to unseat then incumbent Palanivel.