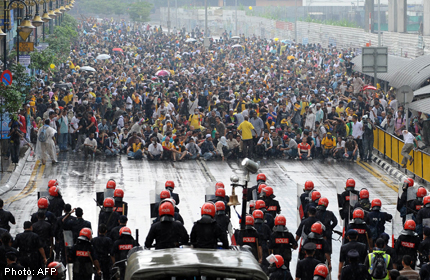 KUALA LUMPUR - The suit brought by the Government against Bersih co-chairman S. Ambiga and 14 others over the RM122,000 (S$48,000) damage to vehicles sustained during Bersih 3.0 rally last year may be settled out of court.
The case had been fixed for a four-day hearing beginning yesterday.
High Court judge Justice Louis O'Hara adjourned the matter when the case was brought before him in chambers.
Senior Federal Counsel Azizan Arshad told reporters that the defendants had proposed the settlement and they were willing to consider the matter.
"We will bring the matter to the Attorney-General's Chambers and our client, which is the Government," he said.
He said the court fixed Sept 20 for the next case management.
In the suit filed on May 15 last year, the Government claimed that 10 cars, three motorcycles and two water cannon trucks were damaged when the rally turned chaotic.
It claimed that the vehicles were kicked and pelted with stones, water bottles and rocks by rally participants, costing the Government RM122,000 in repairs.
The defendants, among others, are Maria Chin Abdullah; Zaid Kamaru­din, K. Arumugam, S. Arul Prakkash, Wong Chin Huat, Dr Ahmad Farouk Musa, Toh Kin Woon and Andrew Khoo, who were named in their capacity as the rally organisers.
On Sept 18, Justice O'Hara granted an application by six Bersih 2.0 steering committee members to intervene and become parties in the lawsuit.
Bersih 2.0 co-chairman Datuk A. Samad Said and five others had filed separate applications to become intervenors on the grounds that they were also involved in organising the April 28 rally.