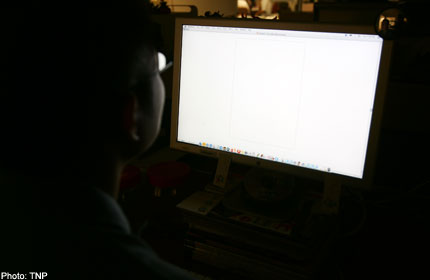 PUTRAJAYA - Three teenagers were detained for uploading unauthorised copies of local films for public streaming via their blogs.
The three, released under police bail, had infringed copyright laws, said Domestic Trade, Cooperatives and Consumerism Ministry's director of enforcement Mohd Roslan Mahayudin.
The males, aged between 15 and 18, were detained in separate raids, codenamed Ops Spyglass, on three residential units in Selangor and Penang on Oct 29 and Nov 8.
"We carried out the raids following complaints from (the films') copyright owners and the public about several portals that were downloading or streaming several local films without the permission of the copyright owners," Mohd Roslan said at the enforcement unit's office, here Monday.
The ministry kicked off Ops Spyglass in July to monitor online sites. If a site is found to break the law, the ministry will take action against the owners of the website and also block access to it.
The operation is expected to end in July 2014.
"We found that the blogs were managed by the suspects but the films featured on them were allegedly sourced from other (portals).
"We have issued a notice of restricted access to the Malaysian Communications and Multimedia Commission to block access to all the portals concerned as provided for under Section 263(2) of the Communications and Multimedia Act 1998," he said.
He said the teenagers had operated different blog sites and were not related to each other.
The three portals were www.allinonetheremovies.blogspot.com, www.pjsenter.com and www.piratebytez.com, but Mohd Roslan said illegal copies of the films where they were allegedly sourced from were operated on websites hosted in foreign countries.
The films that were unlawfully featured on the three locally-run blogs were KL Gangster 2, KL Zombi and Tanda Putera.
Enforcement officers have seized assets estimated to be worth RM12,000 from the teenagers for further investigation
"We have not established whether any fees were charged to people who downloaded the films from these blogs or if the films were in any way made into CD (compact disc) copies for sale.
"What we do know is that some portals make their gain from allowing movie streaming, where if they get many hits, they would attract advertising fees from companies," said Mohd Roslan.