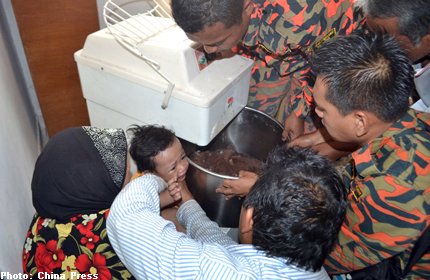 MALAYSIA - A 13-month-old toddler suffered serious injuries after he fell and was trapped in a flour mixer in Muar, Johor.
Mohd Uqshah Iman Ramli was playing near the machine at a factory on Saturday when the accident happened, leaving him with cuts on his mouth and left hand, reported the New Straits Times.
The incident took place at about 10.30am and the factory was then churning out orders for the Hari Raya festivities.
His mother, Madam Maznah Osman, 37, had left the mixer on the floor. She had been with the toddler at the factory at Taman Utama Bakri when the incident occurred.
She reportedly tried to grab her child, but she failed to reach him in time and could only watch in horror as blood gushed from his wounds.
Firemen took 20 minutes to extricate the boy's left hand, which was stuck in the machine.
The toddler was taken to the Sultanah Fatimah Specialist Hospital for treatment.

Get The New Paper for more stories.