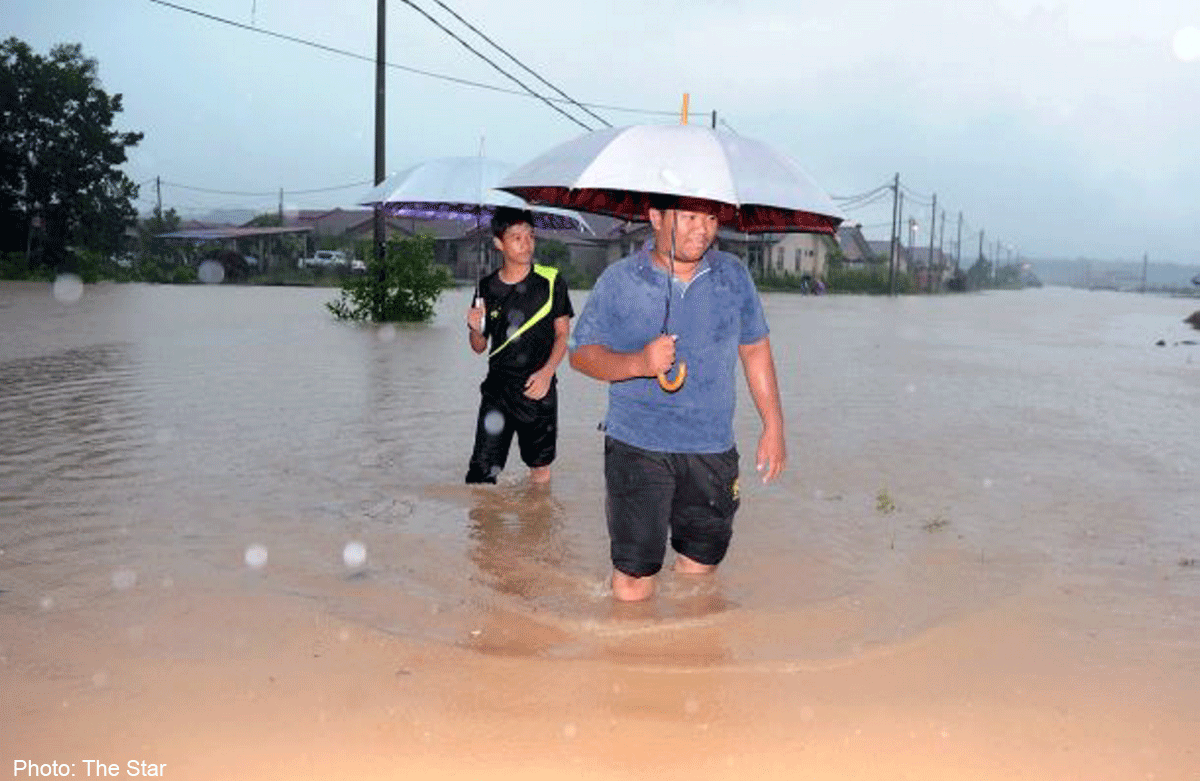 KOTA BARU - A toddler has become the first casualty in the east coast floods which have taken a turn for the worse.
The girl slipped from her mother's arms and fell into the swift floodwaters while being carried to a relief centre near here yesterday.
Until press time, the body of 18-month-old Nor Adriana Adila Asrol Afendi is yet to be found.
Kelantan police chief Deputy Comm Datuk Mazlan Lazim said the 34-year-old mother was carrying Adriana Adila while leading three other children aged seven, eight and 16 through waist-high floodwaters to a relief centre in Kampung Pertang in Kuala KraI when the incident occurred at 3am.
"The woman could have slipped and fallen while wading through the water, causing her toddler to be swept away by the strong current," DCP Mazlan told reporters after visiting a relief centre at Sek Keb Seri Ketereh here yesterday.
The flood also claimed another victim when the body of 34-year-old shop worker Baharom Mohammad was found floating face down in floodwaters in Kampung Lepa Limbat here.
The victim, who suffered from epilepsy, was found by Mohd Asraf Seria, who had initially thought the body was a mannequin.
The second wave of floods in Kelantan, Terengganu and Pahang has forced more than 12,000 people to seek shelter in relief centres.
The water level in most major rivers in the states are also rising beyond the danger point while many stretches of roads, especially in Kelantan, were rendered impassable to all traffic.
As of late yesterday, about 6,700 people have been evacuated in Kelantan, 4,600 in Terengganu and 825 in Pahang.
In the Pasir Mas district, all roads leading to relief centres have been cut off by floodwaters and food and relief aid had to be airlifted to the affected centres.
National Security Council secretary Datuk Mohamed Thajudeen Abdul Wahab said the flood in the district was the worst in recent years.
A Kelantan Flood Operations room spokesman said the state was bracing for more rain over the next one week.
Seventeen stretches of roads in seven districts in Kelantan were closed to traffic as of yesterday.
They include Jalan Chiku-Aring at the (12th kilometre stretch) in Gua Musang, Jalan Sungai Durian (4th kilometre), Jalan Bukit Sireh (2nd kilometre) in Kuala Krai, Jalan Machang-Pangkal Meleret (8th kilometre), Jalan Kampung Pek-Paloh Rawa (7th kilometre) and Jalan Kubor China-Temangan (6th kilometre).
Train services reported that the floods had forced the cancellation of one train service and disrupted seven on the east coast route.
It said the stretch of tracks between the 490th km and 493rd km, between Tanah Merah and Pasir Mas in Kelantan, was flooded yesterday, affecting the services of train No. 70 (shuttle Gua Musang-Tumpat), No. 71 (shuttle Tumpat-Gua Musang) and No. 28 (Ekspress Wau Kuala Lumpur Sentral-Tumpat).