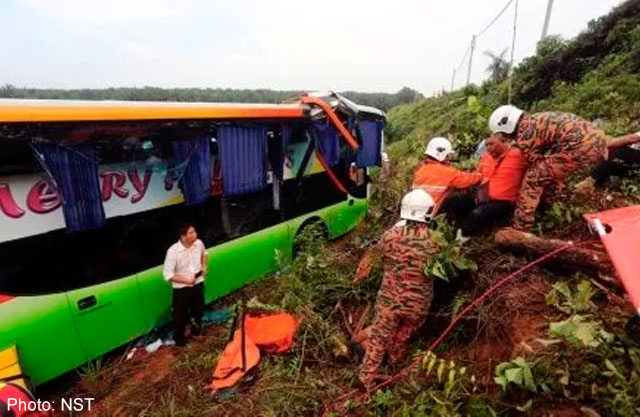 PEKAN - A double-decker bus ferrying foreign tourists plunged into a 15-metre slope at an oil palm plantation along Jalan Kuantan-Segamat near the Felda Chini junction today.
One of the 38 passengers was killed in the 4.20pm incident, when the bus skidded and spun several times before it rolled over and landed in a bush near the oil palm plantation.
The victim was identified as Harry Christopher Woolhouse, 32, of Peterborough, United Kingdom.
The incident happened a day after an express bus crashed at the East Coast Expressway near Temerloh.
It was also the second fatal accident involving a double-decker bus within 10 days as on April 12, three people died when a similar bus overturned at Km11 of Jalan Bentong-Raub.
The bus driver in the latest incident, who wanted to be known only as "Along", said the he was transporting the tourists back to Singapore after they had spent their holidays in Pulau Redang, Terengganu.
The tourists included those from UK, United States, France, China, India and Singapore.
"It was raining and I suddenly lost control of the vehicle when descending the sloping stretch. The bus spun several times before it rolled over the slope on the left side of the road," he said when met at the scene.
Along, who broke his spines, was later rushed to the Tengku Ampuan Afzan Hospital in Kuantan.
One of the passengers, S. Balaji from Madurai, India, said that he was lucky as he was seated on the left side of the upper deck with his four friends.
"It happened so fast that the only thing I could remember was the bus had already landed in a bush. Luckily, my friends and I managed to crawl out of the bus through the broken windows," said the 29-year-old software engineer who has been working in Singapore for the past four years.
The bus first driver, Mohd Salleh Hassan, 48, said that "Along" was given the task to drive the bus from Terengganu although he was the second driver.
"I was sleeping at that time and was awakened when the bus was spinning several times. I could only pray in my heart when the bus was rolling over the slope," said Mohd Salleh from Jalan Datuk Hassan, Muar.