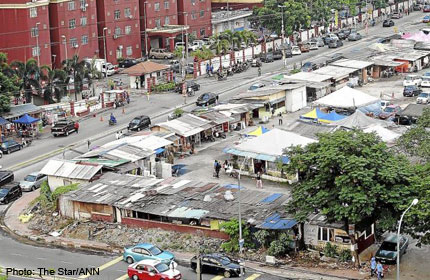 PETALING JAYA - An illegal business colony operated by foreigners has sprouted in Jalan PJS 8/9 in Bandar Sunway.
The colony is believed to have been set up about five years ago and has since grown to encompass about 50 illegally built shophouses.
The majority of the businesses are run by Indonesians.
A recent check by StarMetro showed the area was bustling, with most of the patrons being foreigners too.
Most of the single-storey shops are located on a large plot of land under high-voltage power cables, opposite the main entrance to the Mentari Court flats.
In 2003, the area was occupied by Malaysian squatters.
The residents were relocated by the Government to PPR flats in 2004.
The land was then cleared but left vacant.
However, it was taken over by the illegal businesses soon after.
Some of the makeshift shops were built using only planks.
Others looked stronger and had glass doors installed.
There was a general grocery shop modelled after popular outlets in neighbourhoods all over Klang Valley.
Also spotted was a tom yam restaurant which could cater to about 50 customers at a time.
It also houses a projector screening local TV programmes.
In the same vacant land are several other restaurants, each could seat more than a hundred customers.
There is also a hair salon as well as shops selling clothing and car and motorcycle accessories.
Some shops cater to consumers wanting to repair electronic items such as TV, refrigerator and handphones.
Mentari Court Resident's Association president Noor Ismail Mohd Ali said the colony had grown bigger since 2009.
"We were wondering why the Petaling Jaya City Council (MBPJ) allowed this to happen.
"They do not seem to have taken any steps to stop these businesses from operating without approval," he said.
He added that the presence of the colony sent a wrong message that flouting the law was acceptable.
Ismail said the colony enjoyed very good business and would operate until early morning.
"This place has turned into a mini Jakarta and we hope the authorities will take action," he said.
He claimed some of the shops even had TNB electric meters.
"How is this possible when the shops are illegal?" he asked.
A source said the authorities did not dare take action as the inhabitants would become aggressive.
He said locals were too afraid to do anything.
A TNB spokesman said the utilities giant would investigate claims that the premises were getting electricity from TNB.
"We have permission to use the space for high-voltage power cables.
"However, the land does not belong to TNB," he said.
MBPJ public relations officer Zainun Zakaria said the land belonged to the state and confirmed the colony was illegal as no approval had been given.
"Our representatives will meet with personnel from the Land Office to discuss further action.
"We will work closely with the Immigration Department and the police," she said.