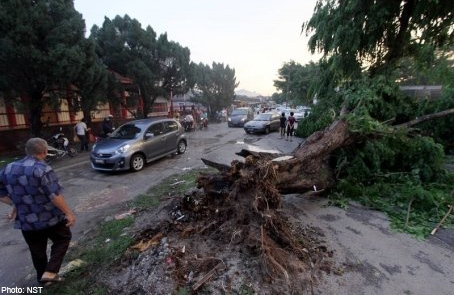 KUALA LUMPUR - A woman was killed in a freak accident when an uprooted tree fell on her at Metro Prima, Kepong, during a thunderstorm this evening.
In the 6pm incident, the large spruce came down at Jalan Development Kepong, trapping the 39-year-old woman who was walking along the side of the road.
Federal Territory Fire and Rescue Department assistant director Azizan Ismail said following a distress call at 6.02pm a team of rescuers from Jinjang rushed to the scene.
"When rescuers arrived, the victim was already dead. Rescuers took about 20 minutes to retrieve her body from under the huge log", he said.
Azizan said a medical team, who was also rushed to the scene, pronounced her dead at 6.18pm. Her remains were sent to the Kuala Lumpur Hospital for a postmortem.
This evening's thunderstorm and wind, he added, also left many trees uprooted at several parts of the city, including opposite Prince Hotel, Jalan Bukit Bintang in front of LTAT building, Jalan Loke Yew, and Jalan Maluri, Cheras.