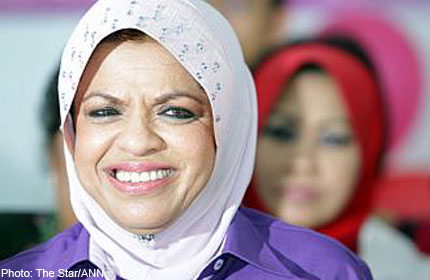 KUALA LUMPUR - Wanita Umno chief Datuk Seri Shahrizat Abdul Jalil has withdrawn her RM100mil (S$39 million) suit against PKR strategic director Mohd Rafizi Ramli and its Wanita chief Zuraida Kamaruddin on a statement regarding the National Feedlot Corporation (NFC) issue.
High Court judicial commissioner Vazeer Alam Mydin Meera yesterday granted Shahrizat withdrawal from her suit in chambers.
Lawyer Ranjit Singh, acting for Mohd Rafizi, said JC Vazeer made no order as to the costs and no liberty to file afresh.
He added that Mohd Rafizi had also withdrawn his counter-claim against Shahrizat.
In Putrajaya, Shahrizat's lead counsel Tan Sri Muhammad Shafee Md Abdullah said filed the suit on Jan 19 last year as she believed Mohd Rafizi and Zuraida made statements to influence the general election results.
He said Shahrizat withdrew the suit as the elections were already over and there was no reason to pursue it.
She had sought an injunction to restrain the two from making further statements plus costs, interests and other reliefs deemed fit by the court.