'We just kept shouting for help': Visitors get stuck on Genting Skyworlds ride in pouring rain
PHOTO: TikTok/Thesandaily
PUBLISHED ON
September 18, 2023 1:25 AM
By
Claudia Tan
She had been looking forward to her first visit to the Genting Skyworlds Theme Park, but she left the tourist attraction feeling traumatised. 
The parkgoer, who wanted to be only known as Chua, shared her distressing experience in a video posted earlier this month (Sept 6). 
The 30-year-old had boarded the Epic Voyage to Moonhaven, a water roller coaster ride with six friends and three other parkgoers at about 6pm on Sept 2. 
In the video, Chua said the ride started off with "beautiful views", and she was filled with excitement. 
Unfortunately, things quickly went south when the ride malfunctioned at the peak, leaving the group of ten stranded. To make things worse, it also started to rain. 
[embed]https://www.tiktok.com/@thesandaily/video/7275250088585235719[/embed]
"We literally left stuck at the top for 15 minutes under heavy rain, it was freezing cold and we couldn't even open our eyes. We just kept shouting for help non-stop," wrote Chua who was seen shivering in that video. 
Speaking to AsiaOne about the incident, Chua said: "We were quite worried because there weren't any instructions given to us, and we didn't know what was going on." 
Chua also said she heard the staff mention that a similar incident occurred two months ago, but no action was taken to rectify the problem. 
In the video, the theme park staff were seen helping the drenched parkgoers out of the ride. Rainwater had also pooled on the ride's seats. 
"They could have immediately sent people to give us umbrellas when they noticed a technical issue, but nothing happened for 15 minutes, we were left freezing and clueless," Chua added. 
'Disappointing and traumatising'
Reviewing her experience at the theme park, she wrote in the caption: "So disappointing and traumatising." 
She claimed that two of her friends were "shivering badly and turned pale" as a result of being stranded on the ride. Chua said that she also came down with a fever the next day. 
"One of them even cried, we were worried so we requested that they do a medical check-up on them. But they only brought my friends to the first aid room and gave them some blankets and heat pads to keep warm. 
"After a while they asked us to change and move to another place as they were closing the theme park," Chua told AsiaOne. 
The woman added that the theme park management did not provide any other form of compensation.
Other netizens also shared in the comments that they had similar experiences at the same theme park.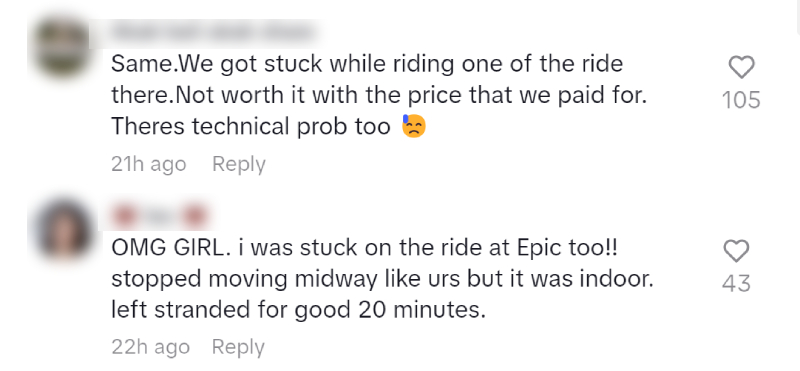 However, one netizen claiming to be a former theme park employee explained that the long waiting time is not intentional. 
"There are always many different kinds of technical difficulty. Just that some problems take longer than usual as we have to wait for the technicians," he wrote. 
When asked by AsiaOne, Resorts World Genting declined to comment on the incident.
READ ALSO: 'Go at your own risk': Woman warns others of closed faulty rides at Genting Highlands theme parks
claudiatan@asiaone.com