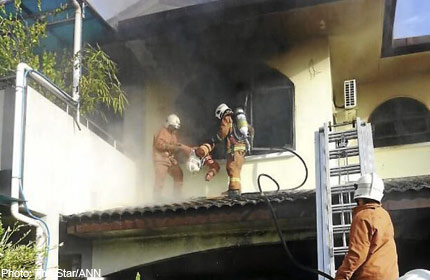 IPOH - An elderly woman and her son, believed to be mentally ill, were killed when their house in Jalan Devadason in Ipoh Garden here caught fire.
The bodies of Lau Yoke Yee, 75, and 41-year-old Stephen Loo Pei Yee were burnt beyond recognition in the morning fire yesterday.
The fire was believed to have started below the staircase of the double-storey terrace house, said Perak Fire and Rescue Department Zone 1 chief Ruhisha Haris.
"The male victim's body was found sprawled on the staircase. His mother's remains were discovered near the bathroom of the master bedroom upstairs," he said.
Ruhisha said the department received a report on the fire at 8.18am and arrived at the scene four minutes later.
"The fire had already spread throughout the house and was raging by the time we arrived," he said, adding that firemen had to break down the grille upstairs to put out the fire.
Opposite neighbour Chin Lai Wan, 31, said she had come out to check upon hearing sounds of glass breaking.
"I shouted for the other neighbours to help and to call the fire department," she said.