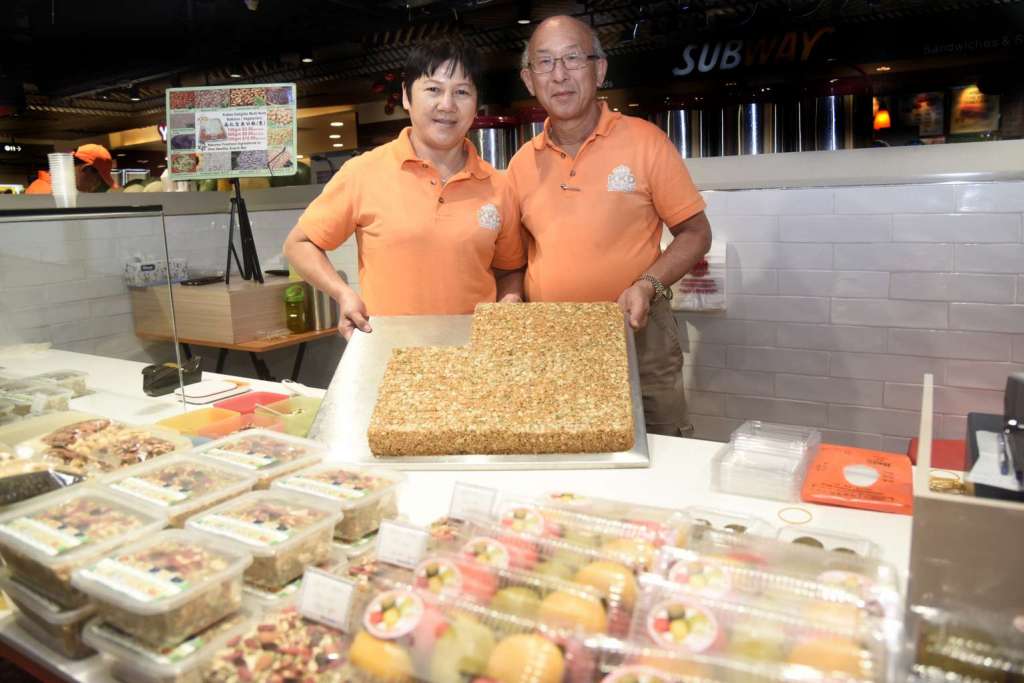 With the gloomy economic outlook taking a toll on the retail scene, shopping malls are freshening up their dining options to draw crowds.
Besides having a more diverse range of cuisines, bringing in new-to-market brands is another way to entice foodies.
Last month, The Clementi Mall in Commonwealth Avenue West revamped the takeaway food kiosks in its Basement One and added 13newfood brands.
About a quarter of these are new-to-market names such as Kokee Delights, which sells a nut cake, and Taiwan Recipe, a Taiwanese street food stall that sells pepper meat buns from a chain that is recommended in the 2017 and 2016 Hong Kong and Macau editions of the Michelin Guide.
In the Central Business District, mall management company Parco Singapore will be opening Itadakimasu by Parco, a cluster of seven Japanese restaurants, next month.
The space in the 100 AM mall in Tanjong Pagar will feature three established restaurants that are making their debut here.
Administrative assistant Jolyn Ng, 32, who visits The Clementi Mall every day, gives the thumbs-up to the wider food selection. She says: "I now have more choices for my quick grab-and-go meals here."
---
The Clementi Mall
Those looking for takeaway food will be spoilt for choice with the new options at Basement One of The Clementi Mall.
After a month-long renovation, the 3,600 sq ft space reopened on Oct 17 with the number of food kiosks increased from 15 to 21.
Thirteen of the kiosks are new to the mall and four are new to Singapore. This includes Mookata Express, a takeaway spin-off on Thai-style barbecue. It sells meat skewers and Thai street snacks such as crispy pork skin. Other new kiosks sell food such as Mexican-Turkish fare.
The floor's interiors have also been spruced up.
KOKEE DELIGHTS(B1-K7)
Open:10amto 9.30pm daily Info: Call 9189-9270
This kiosk centres on one product–a cake that contains 14 types of nuts, seeds and grains – such as almonds, chia seeds and pumpkin seeds–held together by honey and maltose syrup.
Prices range from $3.50 for a 100g box to $16 for a 550gbox.
The confection is the brainchild of Mr Joseph Koh, 70, and his wife, Ivy, 60. They first tried the cake five years ago while on holiday in Xinjiang, China, where it is known as qie gao (sliced cake).
Won over by its wholesome taste, they brought back boxes of the cake and spent three months developing the recipe.
Unlike the sweeter version found in China, which is made with peanuts, sugar, dates and cranberries, theirs is less sweet and has ingredients such as chickpeas and puffed rice for extra bite. He adds that the "energy bar" is made without milk, butter or eggs and is not baked.
Business has been brisk at the kiosk, with up to 80kg of the cake sold daily. The kiosk also sells ang ku kueh ($1 each) with skin made from sweet potato.
TAIWAN RECIPE (B1-K14)
Open: 11.30am to 9.30pm daily Info: Call 6734-6789
Another Michelin Guide-listed delicacy has arrived here – pepper meat ball, a baked bun filled with peppery pork and chives from Dai Gwanin Taiwan.
Dai Gwan started out as a stall at Fengjia Night Market in Taichung more than 10 years ago, and has since expanded to four other outlets in Taiwan and two in Macau. One of the Macau outlets is recommended in the 2017 and 2016 Hong Kong and Macau editions of the Michelin Guide.
Bringing in the popular buns here is Taichung native Chen Ming Hsiung, 47, who also owns Taiwanese cafe 5 Little Bears at Paya Lebar Square and Plaza Singapura.
He says in Mandarin: "I hope the Michelin Guide's recommendation can attract customers."
The Fuzhou-style buns ($3.50 each) are made from scratch and baked at the kiosk. The pork is seasoned with pepper and spices imported from Taiwan.
Unlike the outlets in Taiwan and Macau, which use charcoal ovens, an electric one is used here.
The kiosk sells about 200 buns daily. It also sells other Taiwanese street snacks (from $3) such as salted crispy chicken, fried chicken chop and fish tempura.
NIIGATA BENTO(B1-K13)
Open: 10amto 9.30pm daily Info: Go to www.facebook.com/niigatabento
Named after a prefecture in Central Japan that is famed for its rice, this Japanese food joint serves bento sets featuring koshihikari rice from Niigata. The Japanese short-grain rice is known for its sweet and nutty taste and a firm bite.
The menu lists 21 bento sets, curry rice bowls and donburi. The bento sets (from $8) feature mains such as salmon with cheese katsu, tori karaage and tonkatsu, and are served with potato salad, hijiki (seaweed and natto) salad and kinpira gobo (stir-fried burdock root and carrot).
Other highlights include unagi donburi ($9.50) and chicken katsu curry rice ($7).
Diners can also take away snacks such as squid katsu, fried ebi and pumpkin croquette (from $1.50). It also sells 2kg bags of koshihikari rice ($12.50).
It plans to sell chirashi don next month. Niigata Bento is restaurant operator Select Group's first Japanese eatery.
---
Itadakimasu by Parco
Japanese dining clusters are definitely a trend this year.
Last year, Nihon Food Street at Millenia Walk opened, which was followed by Japan Food Town at Wisma Atria, which opened in July. In September, Japan Foods Garden opened in a Food Republic food court at Shaw Centre.
The latest multi-restaurant enclave, Itadakimasu by Parco, will open on the third level of 100 AM mall in Tanjong Pagar on Dec 1.
It will be fully open by mid- December, with restaurants opening in stages. Itadakimasu means giving thanks for food in Japanese.
The 14,000 sq ft space will have seven restaurants with a combined seating capacity of 467.
Japanophiles can tuck into dishes from ramen and shabu shabu to soba, tonkatsu and yakiniku. Prices are $10 to $30 a head for lunch, and $10 to$80 a head for dinner.
Of the seven restaurants, three are established ones from Japan that are making their debut here.
They are Numazu Uogashizushi, a sushi restaurant that holds highly coveted auction rights to fish from Numazu Fish Market in Shizuoka, Japan; Shabu Shabu Gyu Jin, a hotpot eatery; and Nadai Fujisoba Ni Hachi, a soba noodle chain.
The other restaurants are Ramen Keisuke Tori King, which serves chicken-based ramen; tonkatsu restaurant Saboten; Yakiniku Heijoen, specialising in barbecued Japanese beef; and teishoku restaurant Yayoi.
Mall management company Parco Singapore is revitalising the Itadakimasu concept after it closed Parco Marina Bay at Millenia Walk in 2014.
Mr Yoshinori Shimizu, 41, director and general manager of Parco Singapore, says: "Our customers were disappointed when our first food zone moved out of Parco Marina Bay." He adds that Parco plans to open a few more Itadakimasu zones in Singapore and other parts of South-east Asia.
NUMAZU UOGASHIZUSHI
The 37-year-old sushi restaurant, which is located near Suruga Bay in Shizuoka, gets its fish directly from NumazuFish Market.
Diners can look forward to a lunch set ($20),which consists of 10 pieces of sushi, a piece of maki sushi, salad and crab soup; and the Numazu Port Selection set, which includes eight pieces of sushi with omakase fish and sakura ebi from Suruga Bay.
Other dishes include alfonsino fish in sweetened soya sauce and sakura shrimp tempura.
This is the restaurant's first overseas outlet and it will be helmed by four chefs from Japan.
The average price a head is $20 for lunch and $50 for dinner.
SHABU SHABU GYU JIN
Beef lovers can find a good selection of wagyu at this shabu shabu buffet restaurant, which started in Tokyo in 1970.
The restaurant, which also has outlets in Hong Kong and Shanghai, uses Australian and Japanese beef.
Highlights include the chuck eye roll cut from A5-gradewagyuthat is air-flown from Japan. Exclusive to the Singapore outlet is the wagyu grill bowl ($27.90).
Expect to pay about $30 a person for lunch and $50 for dinner.
NADAI FUJISOBA NI HACHI
The soba restaurant, which started in Shibuya in Tokyo in 1966, will offer different types of soba made from buckwheat imported from Japan.
Its signature dishes include tempura soba, kamo maze (dried duck) soba and dashimaki tamago (omelette with dashi).
The Singapore outlet is the first to feature a complete soba line-up that includes thin soba, tsuke (dipping) soba, maze (dry) soba and thick soba.
Also exclusive to this outlet is kamo nabe (duck shabu shabu hotpot) with an umami dashi stock made with dried bonito and kaeshi (mixture of soya sauce, sugar and aged mirin).
The average dining price a head is $15 for lunch and $20 for dinner.
The restaurant has four outlets in Taiwan and six in the Philippines.

This article was first published on Nov 13, 2016.
Get a copy of The Straits Times or go to straitstimes.com for more stories.