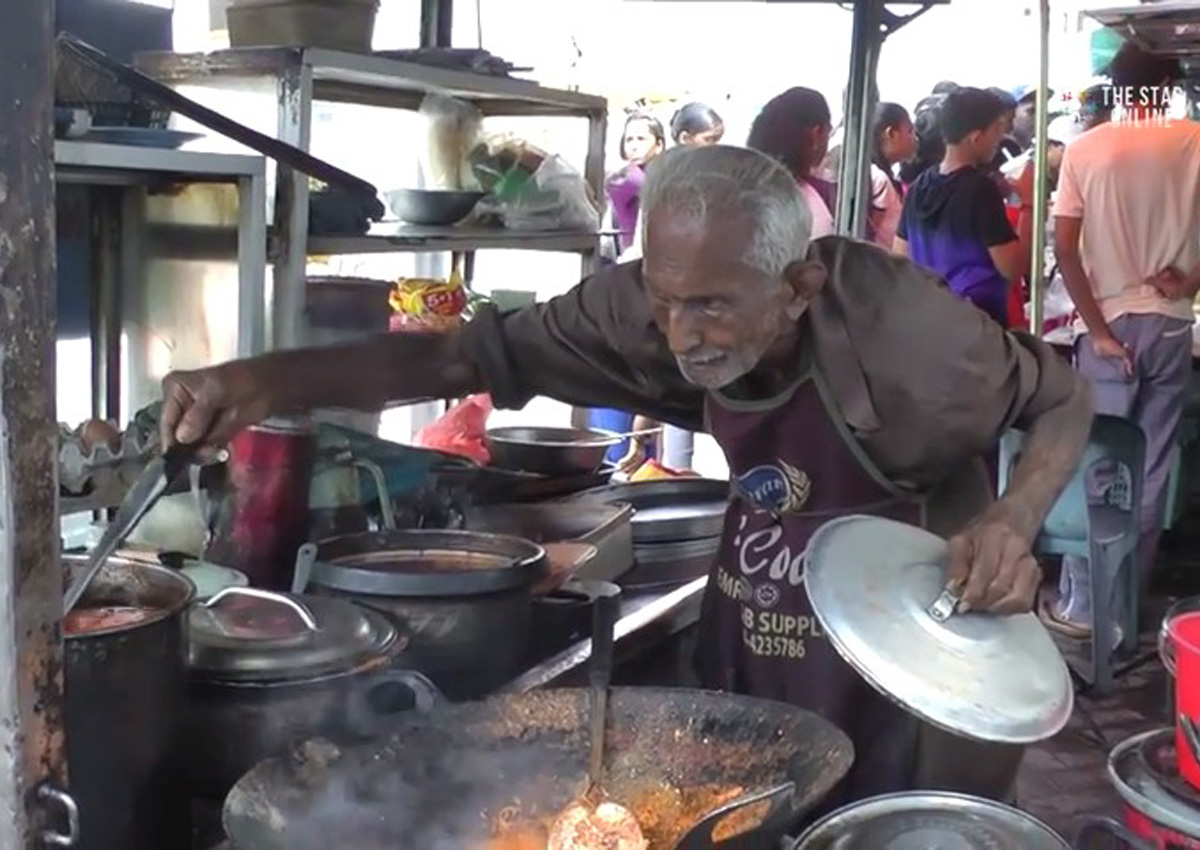 GEORGE TOWN - A mamak mee goreng (fried noodles) seller Abdul Karim Pakir may already be 92 but he's not ready to quit yet.
"I love what I do so much that I do not want to quit.
"I have pain in my body, here and there, because I am old, but that will not stop me from going on doing what I do," he said at his stall in Tamil Street here.
Abdul Karim has been plying his trade from a makeshift cart near the Chowrasta Market Complex for more than 30 years.
His price for a plate of mee goreng has remained RM2.50 (82 cents) for as long as he has been there.
Abdul Karim, who stays in Jalan Makloom with his daughter, does not stinge on the ingredients.
Also, the portion is the same as any mee goreng sold elsewhere in Penang.
"I only need to make a little profit. Why should I charge so much?
"I don't even need to pay anyone to help me as I do everything myself.
"I take a bus to my stall every morning. I am usually open from 11am to 10pm," he added.
When asked how he started selling fried noodles, Abdul Karim had no trouble remembering the day he left India for Malaya.
"In India, I was a fisherman and I came to Malaya in 1947.
"I was 24 years old when I came here with my younger sibling and we worked at a coffee shop where I learned to speak Malay.
"I could only read Tamil then, but I speak a little English," he said.
Abdul Karim added that five years later, the coffee shop was sold off and that was when he sold laksa for a living.
"I would order fish from Teluk Bahang as a good laksa needed good fish. I sold laksa at the Esplanade for about 40 years before I decided to close shop due to a lack of customers. I then changed to mee goreng which I have been selling till today," he said.
When asked about his wife, tears filled his eyes.
He refused to talk about her other than to say that she had passed away.
Hawker Mohd Taufique Seeni Mohamed, 31, said the old man's stall would be in total darkness in the evening as the cart had no lights.
"His cart is directly under a non-functioning street light," he said.
"We have complained about this to the authorities and they visited the site but nothing has been done."