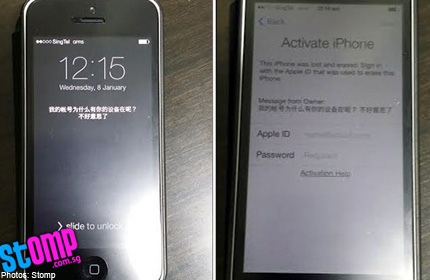 SINGAPORE - A man who purchased a new Apple iPhone 5C from SingTel found the smartphone remotely locked after a week, requiring its "original owner" to unlock it.
A reader of citizen journalism website Stomp said that when her boyfriend's father, who had bought the smartphone without a contract, contacted the telco for a one-for-one exchange, it refused and advised him to check with Apple's service centre for a solution to the problem.
Said the Stomp contributor: "The iPhone 5C was perfectly fine and nothing seemed wrong on the first week. Till the error message started popping out.
"First, it prompted in Chinese characters that said, 'Why do your settings exist in my account?"
"Next, after we tried sliding the bar to unlock the phone, it then said 'This iPhone was lost and erased. Sign in with the Apple ID that was used to erase this iPhone'.
"When we tried tapping on the 'Activation Help' page, it then prompted that 'A password is required to activate this device because it's owner has used Apple's 'Find My iPhone' service to link it to his Apple ID'.
"The most ridiculous message is just below and it says 'If you were given this device or purchased it second hand, you will need to contact the original owner to have them remove this device from their account'.
"It is totally unbelievable that such things will happen. We then decided to head down to Apple's service counter the next day to get the device unlocked.
"Due to some security reasons Apple's service counter was not able to unlock the iPhone as we need to present the proof of purchase before they can do the necessary arrangements for us.
"We called SingTel in hope that they would mail us our proof of purchase receipt. Their reply was, 'As this is a new problem and case, thus you will have to check with Apple's service centre to solve the problem.'
"They also said that if we wanted the proof of purchase, they will have it mail to us and it takes around three to five days.
"We asked for them to email the receipt to us as my dad needs the phone for work.
"They then gave a solution of paying $30 as an admin fees for the email. So this is the kind of service we got after being such loyal customers for years.
"SingTel refused to do a one-for-one exchange and Apple will need three to five days to unlock the phone. Takes up lots of our time and makes us feel very disappointed."

Visit STOMP for more stories.