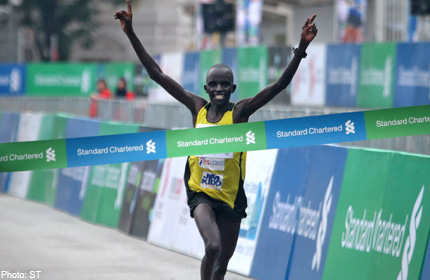 His name was not on the list of athletes tipped to win the men's race at the 2014 Standard Chartered Marathon Singapore (SCMS) Sunday.
But Luka Kipkemboi Chelimo was not too fussed as he was only interested in going as fast as he could over the 24.175km route.
Nearing the end, however, the 36-year-old had enough left in the tank and pulled away to post a surprise victory over his more illustrious countrymen and continue Kenya's domination of the event, which now stretches back to 2002.
Chelimo clocked 2 hours, 14 minutes and 59.94 seconds, ahead of Eliud Kiptanui (2:15:25.65) and Mike Mutai (2:15:40.45), respectively, joining a list of Kenyan winners that stretches back to 2002.
Chelimo, who won the Odense Hans Christian Andersen Marathon in Denmark last year, was surprised to have beaten his compatriots here, but said: "The only difference is that they were given elite numbers while I was just given a number that was behind.
"I overtook the others with around five kilometres remaining... and when I came close to them, I just tried to overtake them one by one.
"I'm very happy because I won the race."
EXCITING
The women's race was a tight and exciting contest won by favourite Sharon Cherop, another Kenyan, who clocked 2:41:11.04sec.
With just a kilometre to go, the 29-year-old was neck and neck with Ethiopia's Debre Godana, and just behind race leader Alina Prokopeva of Russia.
In a dramatic finish, the 28-year-old Russian fell away as Cherop and Godana sprinted to the finish line.
Cherop just prevailed, finishing 0.67 seconds ahead of the Ethiopian.
"It was so close and I was breathing so hard," said Cherop, who like her male compatriot Chelimo, won US$50,000 ($62,700). "I knew that when I started to sprint, the European lady started to drop out, so that gave me confidence.
"I saved it for last and I had to sprint so hard because humid races are different from other races.
"It was so humid and this was the toughest race that I've run."
Humidity aside, race conditions were as good with cloudy skies but no rain.
With the Singapore Sports Hub set to be opened next year, Acting Minister for Culture, Community and Youth Lawrence Wong raised the possibility of the new National Stadium being worked into the race route in the future.
GROWING
"Over the years, the marathon has been growing... and today, we have 54,000," said Wong, who participated in the Ekiden team event Sunday.
"Next year, when the Sports Hub is ready, we hope to see how we can change the route of the marathon so that it goes through the Sports Hub or even ends at the National Stadium itself.
"When I did my first marathon, that was how it was. The last part of it, you entered the National Stadium and ran one round around the stadium with the people in the stands cheering for you.
"I remember that still quite vividly today so I think that if we have a new National Stadium coming up and the marathon ends there with family and friends in the stands cheering for the runners as they come in, I think it will be quite special."

Get The New Paper for more stories.