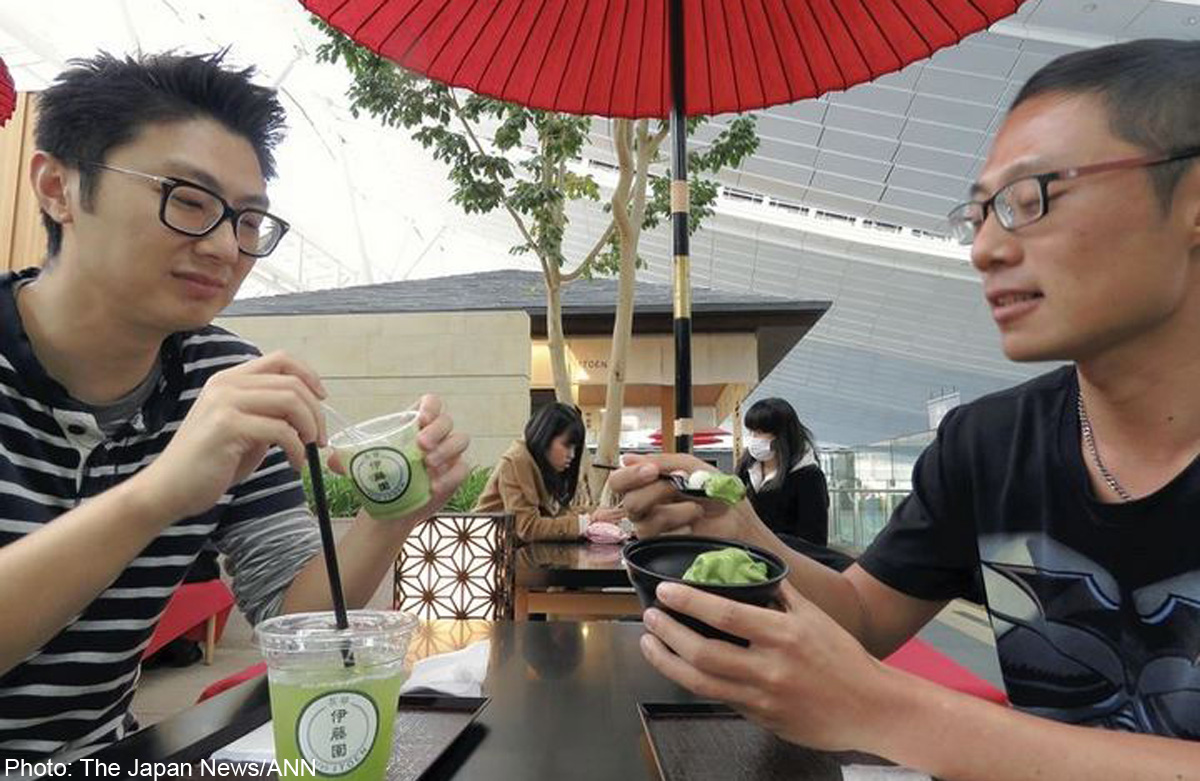 The popularity of matcha - finely powdered green tea - has been exploding not only in Japan but also overseas, thanks partly to traditional Japanese washoku cuisine's designation as a UNESCO intangible world heritage.
Sales of sweets and beverages containing matcha have been especially strong. The production volumes of tencha, the green tea leaves from which matcha is made, have also been rapidly rising.
Saryo is a purely Japanese-style teahouse operated by Ito En Ltd. in Haneda Airport's international passenger terminal. Every day since its opening in September last year, the cafe has been packed with foreign tourists, especially those from South Korea and China.
On days when business is particularly brisk, nearly 400 orders are placed for sweets with soft-serve ice cream containing matcha.
About 11,000 customers visited Saryo in January, about 20 per cent higher than the company's initial projection.
"Matcha is tasty," said a traveler from Hong Kong. "It's big in Hong Kong, too."
Officials of major discount store chain Don Quijote Co. said there have been many instances in which foreign customers bought entire crates of goods containing matcha, such as matcha-flavored chocolate confectionery.
"Matcha is being recognised as a Japanese specialty, and its reputation overseas is growing," said an official of the company.
In Thailand, word has been spreading about Chaho, a matcha cafe chain operated there by Nakamura Chaho, a 131-year-old company based in Matsue.
At two Chaho store locations in Bangkok, many customers have expressed the wish to learn more about how to drink and prepare matcha.
Matcha is made from tencha leaves, which are ground into a fine powder using milling tools.
In fiscal 2013, 1,164 tons of tencha was produced in Kyoto Prefecture, the nation's largest producer of tencha, up about 50 per cent from the previous two years. Other such sites across the nation have seen similar trends.
The government aims to double the export value of Japanese tea products, including matcha, to 15 billion yen (S$171 million) in 2020. The matcha boom is seen as likely to continue for the time being.
However, tencha requires strict quality control and its mass production is difficult. If the demand for matcha keeps growing, prices could surge.