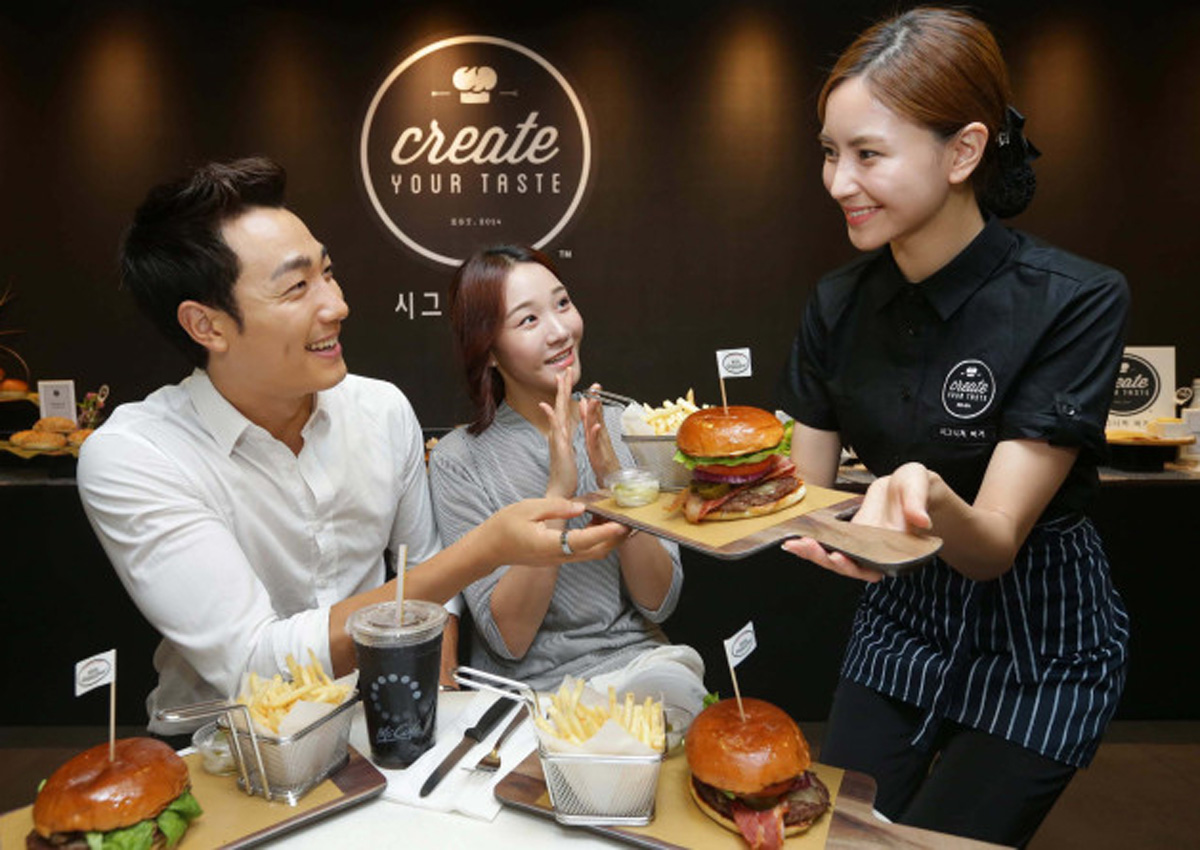 McDonald's Korea is getting a makeover with a customisable gourmet burger and how it is ordered and served in a bid to attract customers who seek a new dining experience, the fast food restaurant chain said on Wednesday.
The new menu item dubbed "Signature Burger" offers customers options to build their own burger with over 20 ingredients.
"The signature burger is a new trial which symbolises the company's innovation and evolution," said McDonald's Korea managing director Joe Erlinger.
The fast food chain is also trying to enrich diners' experience with a new high-tech ordering system. Customers choose from various options for the newly launched burger via a touch screen kiosk, and meals are brought directly to their tables.
The upscale burger menu will be launched at its Sinchon store, an area surrounded by universities on Friday, and two more restaurants in September for testing.
The move comes amid Korean consumers' growing interest in gourmet cuisine. This year, cooking shows which feature famous star chefs multiplied in the country, targeting those who are craving for customised, healthier dishes.
"In short, it's a premium handcrafted burger," said Choi Hyun-jung, chef and senior menu manager of McDonald's Korea, stressing the use of quality ingredients such as brioche bun and provolone cheese.
There are two categories of the signature burger - three types of recommended burgers and customised ones. The former is comprised of hot all over burger, grilled mushroom burger and classic cheeseburger, price starts from 6,500 won (S$7.80). The latter's price starts from 7,500 won.
"McDonald's signature burger differentiate itself from other gourmet burgers by offering customers to choose every single ingredient to suit their taste with a reasonable price. The new digital experience we provide is something that hasn't been tried in the industry," said Jang Ko-woon, the company's spokesperson.
The self-ordering kiosks installed inside the restaurant provide smart interactivity which enables users to make the order, payment and indicate their seats for table service.
The implementation of the high-tech system is the latest move of the burger giant trying to stay on top of the fast-food world which is expected to improve order accuracy and speed up service.
"This will be the first step toward McDonald's digital innovation. It will revamp mobile application and adopt new online payment technology in the future," said digital senior director Doug Kim.
"I believe that the digitalisation pursued by McDonald's will be well received by Korean consumers as the country has an advanced IT infrastructure and the people are familiar with such high-tech tools," he added.
The new platform and signature burgers were first introduced in Australia in 2014, followed by other Asian markets including China, Hong Kong and Singapore.
In May, McDonald's announced a restructuring plan for global operations to be segmented into four focal markets which categorized Korea as a high-growth market with expansion potential with other seven countries that comprise 10 per cent of the company's operating income.
The unit in Korea has grown at double-digit rates for the past five years, according to the company's official.
First launched in 1988 here, McDonald's Korea operates some 400 stores in the country.