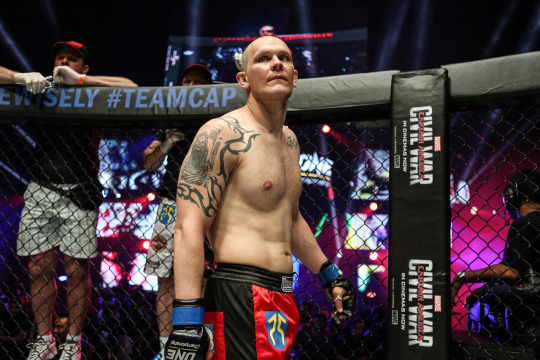 After suffering the first setback of his professional career this past May, Poland's Michal Pasternak is looking to get himself back into the win column when he battles Myanmar's very own Aung La N Sang. The bout will take place on Friday, 7 October. at ONE: STATE OF WARRIORS in Yangon's Thuwunna Indoor Stadium.
"I am very motivated to win this fight and that's why I am here," the 32-year-old says.
Not only is he motivated, but he is also confident. "Every fighter likes to visualize his fights some way," he adds. "I thought about a few scenarios and I won in every one."
Pasternak, a Polish ADCC Champion who trains at Okninski MMA in Poland, is quite arguably the most focused he has ever been.
He first took the MMA scene by storm, quickly accumulating a spotless 11-0 record. This included a unanimous decision victory over Rafael Silva at ONE: DYNASTY OF CHAMPIONS (BEIJING) in his promotional debut back in December 2014.
During the fight, Pasternak showed that he was made of sterner stuff by grinding out the victory despite suffering a serious knee injury mid-way through the bout, leaving him at a severe disadvantage. That injury would subsequently cause him to be out of action for over a year.
In his return bout, he fought a very dangerous opponent in Roger Gracie at ONE: ASCENT TO POWER for the organization's inaugural Light Heavyweight World Championship back in May. The match didn't go his way, however, as the Brazilian jiu-jitsu ace choked him out, took the title, and put a lone blemish on his record sheet.
"Fights after injury are very tough ones," the Polish warrior explains. "I lost over a year due to the injury. In some way, it is a life lesson. You're coming back and you need to go through something you've already been through, but it can only make you stronger."
Pasternak realized he made a few errors in that fight against Gracie, but those errors have been taken care of prior to his local main event tilt against Aung La N Sang.
"The opponent took advantage of my mistake in my last fight," Pasternak says. "My coach is working with me to avoid that in the future. I need to use my best weapons, not adjust to his game. But it was a one-time flop against Roger Gracie."
Not only will he have a solid game plan in place for Aung La N Sang, but he will also be mentally sound. He'll need to be particularly sharp in all areas because he is stepping into enemy territory, where Aung La N Sang is considered not only the hometown hero by the Myanmar audience, but a local celebrity as well.
"He is the host, so I think that he has a lot of fans there," Pasternak admits. "But in fact, for me, it is more positive than negative. It gives me extra fuel. I think that after the fight, most of his fans will be my fans as well."
A fighter's mentality can weigh heavily on them, especially when entering the stadium in front of their opponent's hometown crowd, and it can affect their whole preparation as they enter the cage. Luckily for Pasternak, he doesn't deal with that. Instead, he is focused on himself and the task at hand. He tunes out everything around him and doesn't let the crowd disrupt his vibe.
"During my walkout, when I am going through the arena, I do not focus on what surrounds me," Pasternak says. "I do not think that it affects me in any way that my opponent has a lot of fans. I am going there to get my job done, and that's the only thing I am focused on. I do not think about the lights, music, et cetera."
"My biggest strength is for sure my mental state, and I think I have everything sorted out," he continues. "Also, my coaching team. I am going for training and I know that I have good sparring partners and a good coaching team to work with for every fight."
The Okninski MMA product has fought at a number of weight classes, including heavyweight and most recently light heavyweight. However this will be his first outing at middleweight. Being that this is his first contest at 84kg doesn't mean it is any more or any less important for Pasternak.
"Every fight is important to me," he says. "Every single fight I had was very important to me and for every fight, I always gave 100%. There isn't a 'more important' or 'less important' fight. Every time, I need to do my best in the fight and prepare the best I can so I can't blame myself after the fight."
Still, he is beaming with confidence for his match in Yangon. "I will win."