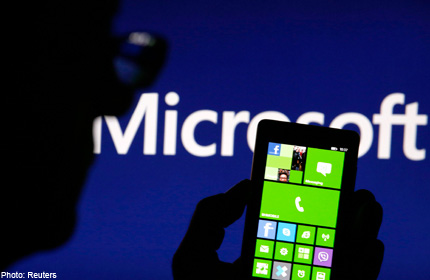 Microsoft started making its own PCs last year and now, for US$7.2 billion (S$9.2 billion), looks set to be making phones as well, with its planned acquisition of Nokia.
The buying of Nokia confirms Microsoft's new strategy of becoming a device-maker such as Apple, which owns both the hardware and software aspects of its products.
But doing this also means Microsoft risks alienating its PC and phone partners, such as HP and HTC, which use the Windows and Windows Phone operating systems.
Directly competing with its hardware partners is a huge risk for Microsoft, which rose to greatness on the strength of its business of licensing its Windows operating system to PC makers.
With the new shift, how can vendors such as HP, Acer and Dell trust Microsoft with their product road maps, knowing that Microsoft itself has become a competitor in making the products in the same category?
The signs are already here. HP was once Microsoft's closest hardware ally but, over the last few months, HP has launched a slew of affordable Android tablets, from the 7-inch HP Slate to the 21.5-inch HP Slate All-In-One.
So why would a smart company such as Microsoft make what appears to be a move that threatens the very core of its business?
I think the strategic shift has something to do with the fact that Microsoft has been totally left behind in the tablet business. The meteoric rise of the Apple iPad and Android tablets has eaten into Microsoft's PC business, with many consumers choosing to spend money on a tablet instead of a PC.
Apple's success with its iPads has also created a halo effect over its line of Mac computers, with even Windows users installing their preferred operating system on the slim, sexy and competitively priced MacBook Air.
Microsoft, perhaps, blamed its woes on the inability of its hardware partners to deliver a product that could compete with Apple. Or it was frustrated its hardware partners would not push the envelope in product innovation, relying instead on incremental product updates to develop a long sales pipeline.
Whatever the reason, I feel Microsoft's move to emulate Apple by coming up with its own line of Surface PCs is a big mistake. If you are fighting a war, you need more allies on your side, not fewer.
Microsoft's decision to be a device-maker might have been forged at a time when Apple was dominant, but over the past year, Android has taken over. According to research firm IDC, in the second quarter (Q2) of last year, iPads had a global 60.3 per cent market share while Android had only 38 per cent.
These numbers have now been reversed, with Android having a 62.6 per cent market share, while Apple's share has halved to 32.5 per cent for the recent Q2 of this year.
Microsoft should learn from Google. Google, too, wanted to stimulate its hardware partners to push product innovation and launched its own line of Nexus devices, but instead of going alone, it toggled between its partners to come up with its Nexus line of Android phones and tablets.
The proof is in the pudding for Microsoft's failed gambit. Its Surface tablets - or hybrid PCs as it likes to call them - have not taken off and it had to incur a massive US$900-million write-down in its Surface RT machines, to offer rebates to retailers so that they can sell RT devices cheaper.
Microsoft's acquisition of Nokia is actually less of an issue. Both the Windows Phone operating system and Nokia phones have already fallen out of favour.
IDC expects Windows Phone to hit a 3.9 per cent market share by the end of the year - an insignificant number compared with Apple iPhones and the Samsung Galaxy Android devices.
Nokia is already exclusively making Windows-powered smartphones, so Microsoft buying over Nokia does not really change anything.
What Microsoft really needs to do is to look back to its own legacy. It became a giant from selling software, not from making hardware.
The reason Windows 8 tablets and Windows Phone smartphones failed to impress is because of the lack of apps supporting their ecosystem. It is a telling sign when the Windows 8 Store still does not have an official Gmail, YouTube and Facebook app after almost a year after its launch.
Microsoft is in need of product innovation - but the path lies not in new devices but in getting more developers on board. Owning both hardware and software will not solve the problem.
Just take a look at BlackBerry - it is trying to sell itself before the end of the year, probably on concerns that it won't have much value left when the new year begins.

Get a copy of Digital Life, The Straits Times or go to straitstimes.com for more stories.