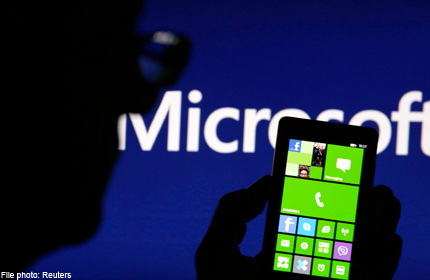 After 13 years at the helm, Mr Steven Ballmer is leaving Microsoft, the company he has been with since 1980.
As the company's 30th employee, Mr Ballmer was personally hired by Microsoft's founder Bill Gates and has headed several Microsoft divisions during his time at the software giant. He was promoted to president of Microsoft in 1998 and was named Mr Gates' successor in 2000 when he was made CEO.
While his tenure has seen the company triple its revenue and double its profits, its stock prices have remained flat. In early 2000, Microsoft was worth almost US$600 billion. Now, it is trading at about US$270 billion (S$344 billion).
Here is a quick summary of Microsoft's hits and misses under the leadership of Mr Ballmer.
HITS
Xbox 360 (2005)
There were a few chuckles when Microsoft said that it wanted to enter the video game console market. While the original Xbox was a commendable effort, it was no match for Sony's more popular PlayStation 2.
But Mr Ballmer pushed on and made the successor, the Xbox 360, a formidable opponent. Even though Sony's PlayStation 3 offered free online multiplayer connectivity, Microsoft's paid service proved to be equally popular.
Global console sales for the Xbox 360 crossed the 77 million mark this year, besting the 75 million clocked by PlayStation 3 sales.
Windows 7 (2009)
The history of Windows began in 1985 and while there have been some hits (Windows XP) and some misses (Windows ME), Windows 7 stood out for putting together the best that the platform had to offer in one package. The software ran faster in machines, was extremely user-friendly and included tweaks that enhanced user experience. Windows 7 went on to become the company's fastest-selling operating system and more than 630 million licences have been sold.
Kinect (2010)
While the Nintendo Wii can be credited for introducing motion-based controls for video games, Microsoft went a step further and tossed out the actual controller. Instead, the Kinect sensor uses a camera to detect a player's movement and incorporates it into the game.
And consumers lapped it up, as the Kinect sensor made the Guinness World Record of being the fastest-selling consumer electronics device by selling 8 million units in its first 60 days of launch.
Microsoft shipped 24 million units of the Kinect sensor as of January.
While Sony's Move controllers were inspired by the Nintendo Wii, the Kinect was revolutionary and a bold effort in innovation.
MISSES
Windows Mobile (2000 to 2010), Windows Phone (2010)
Mr Ballmer famously questioned the significance of the iPhone in 2007 and said there was no chance it was going to get significant market share. Of course, Windows Mobile devices had a 47 per cent market share in the United States at that time.
By 2010, Microsoft was trounced by Apple and Google and could snare only 10 per cent of the global market.
The company overhauled the operating system and came up with a successor, Windows Phone, in 2010. While it managed to partner mobile phone maker Nokia in using the OS, sales failed to make up for the dominance that Apple and Google already had in the smartphone market.
Current market share for Windows Phone devices sits at 3.1 per cent of global sales.
Zune (2006 to 2011)
Chances are, few here would know of Microsoft's range of digital media products as the company launched the products only in a small number of markets outside of the United States and skipped South-east Asia completely.
Positioned as a competitor to Apple's highly successful iPod range, the devices and content services failed to take off. It was not the first Microsoft product to have failed and would not be the last.
Windows 8 (2012)
With sales of tablets outpacing those of the more expensive personal computers, Microsoft needed a revamp of its resource-heavy Windows OS. It came up with Windows 8, which featured a radical redesign, as well as several new features, including a touchscreen interface for use on a slate device.
Alas, the new interface never caught on and some changes to correct it are being made to the upcoming update, Windows 8.1.
Meanwhile, global sales of personal computers are slowing down, while those of tablets are on the rise.
WHAT THE NEXT CEO SHOULD LOOK INTO
Surface (2012)
Announced to rousing reaction, Microsoft's Surface tablets did not take off as expected. The lack of apps continues to be its bugbear with official apps for Facebook, Gmail and YouTube still prominently in absentia.
While the company had to write off US$900 million due to poor sales, there is a market for cheap and portable Windows machines that function as a tablet and a laptop.
But first, someone at Microsoft needs to look at what Android and iOS are capable of and offer something better, instead of slapping the Windows operating system on a slate device and praying it will sell.
Xbox One (2013)
The successor to the Xbox 360 is slated for launch later this year in the United States, but Microsoft has said the Xbox One will be available in Asia only late next year.
Meanwhile, Sony is expected to announce 2013 launch details of its PlayStation 4 game console in Asia later this month.
After having to deal with numerous changes in services on the Xbox One, the lack of availability of one of the company's more successful consumer product in Asia came as a double whammy for fans of the brand.
The changes in policies showed that Microsoft did not understand what gamers wanted.

Get a copy of Digital Life, The Straits Times or go to straitstimes.com for more stories.