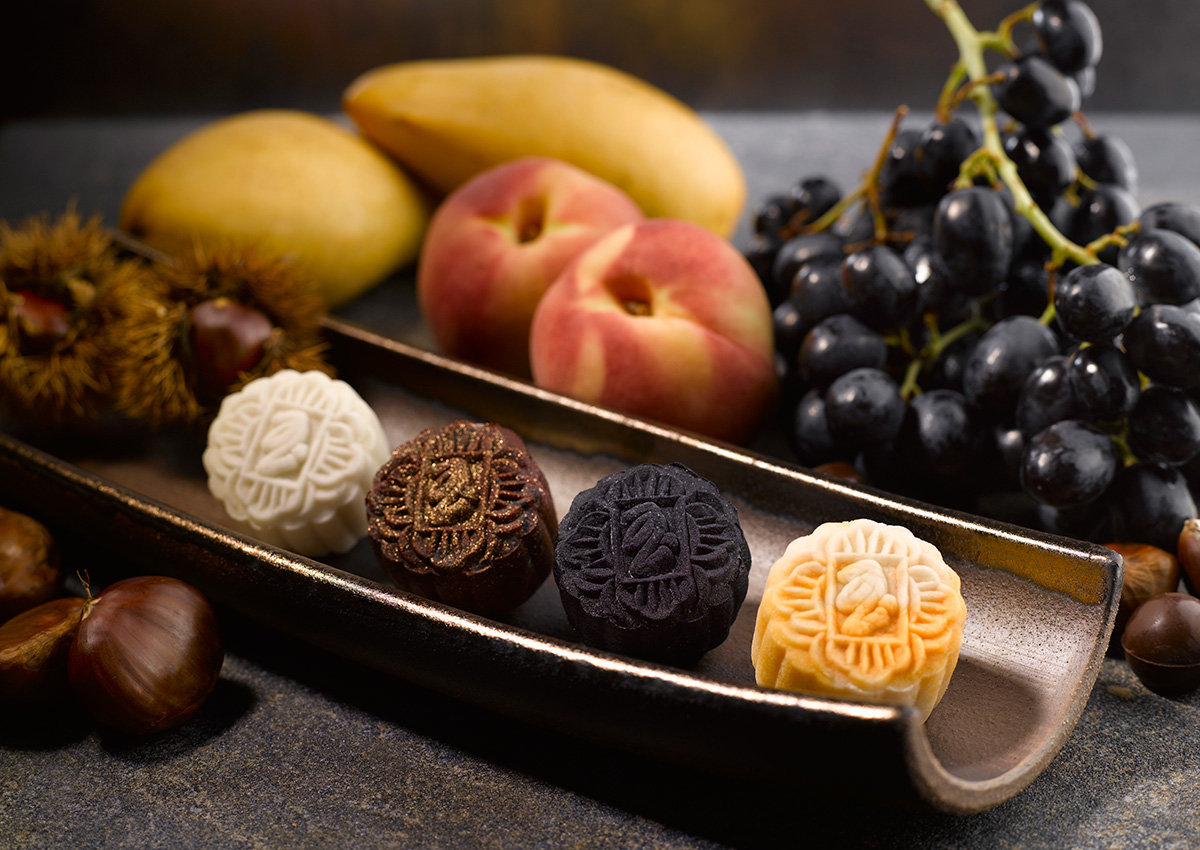 At first glance, it may seem that mini mooncakes are easier to bake because they are smaller, or, about half the size of conventional ones or even tinier.
But mooncake chefs will tell you that this is far from the truth. Baking mini mooncakes in fact puts the skill of the chef to the test. "Celestial flavours in delicate handmade morsels is the aim of the team at Szechuan Court at Fairmont Singapore", says Dim Sum Sous Chef Mandy Yeo.
With a filling to dough ratio of about 6:1, mooncake making is a delicate process that demands skill.
"Snowskin is actually more work for us. We have to make double the number as snowskin size is smaller. But it has to be small because small is beautiful; it looks more exquisite," explains Executive Sous Chef Liew Tian Heong from Mandarin Orchard Singapore, who has 20 years of mooncake baking experience.
Plentiful pastel beauties
Today, besides traditional filings such as melon seeds and salty eggs, you can even get cream cheese and durian in your mooncake.
Szechuan Court at Fairmont Singapore (tel: 6338-8785), for instance, is launching Mini Snowskin Yuzu Chocolate in White Lotus Paste ($62*) this year, coined "Yuzu Passion".
Li Bai Cantonese Restaurant at Sheraton Towers Singapore (tel: 6839-5636/5623) has not one but three types of new mini mooncakes to celebrate this year, including the nourishing Mini Snowskin Red Date Paste with Apricot ($56*).
Golden Peony Restaurant at Conrad Centennial Singapore (tel: 6432-7486/87) - renowned for its signature Sweet Potato Mooncake in Crispy Filo Pastry ($62*) - has a set of Mini Snowskin Treasures ($62*) packed in a deep red faux leather gift box. With a blend of "East meets West flavours" ranging from White Lotus With Cookies And Cream Cheese, to Chestnut With Red Bean, this is one mini set that makes for a great tea-time treat.
Bursts of local flavours Goodwood Park Hotel (tel: 6730- 1867/1868), which has built a reputation around its durian collections, is delivering them anew in regal gold carriers.
The Tropical Royals duo ($45*) features D24 durian and jackfruit in its baked mooncake collection for the first time.
A must-try this year is the Premium Durian Snowskin Combo ($75*) with pulp sensations in four durian types - velvety Green Bamboo Durian; creamy Hu Lu Durian; intense Rose Putih Durian; and sweet, orange-hued Red Prawn Durian.
At Singapore Marriott Tang Plaza Hotel (tel: 6831-4708), Wan Hao Chinese Restaurant's signature Chicken Bak Kwa And Assorted Nuts With White Lotus Seed Paste Baked Mooncake ($63*) celebrates local flavours as well with bits of bak kwa (local barbecued pork delicacy).
Likewise its Gold Dusted Black Truffle Baked Mooncake with traditional waxed duck, roasted chestnut and single yolk ($78*) is skyrocketed into the luxury realm.
Minis are not limited to snowskins.
Bakerzin (rewards.bakerzin.com) is pushing out a brand new Mini Oriental Collection ($56*). Each "baked gem" is filled with white lotus paste in a host of new subtle flavours such as Black & White Sesame, Pandan & Red Bean, and Ginger.
Tiny but tasteful
TungLok Restaurants (tel: 9088- 8008, from TungLok outlets or Takashimaya B2 Square) is known for baked mooncakes portioned smaller than typical minis but bigger than Chinese chess pieces.
Its new snowskin set this year includes Orange Apricot With Chocolate, and Banana Milk With Salted Caramel ($54*), and Bite-sized Tutti Frutti Mooncakes ($54*).
Returning with its benchmark- setting jamon iberico and snowskin lychee martini renditions, Mandarin Orchard Singapore's (tel: 6831-6320/6262) new autumn collection comes in mini size as well.
There is the Mini Snowskin Red Wine Cranberry Paste and Yuzu Lemongrass Mooncake ($56*); and Baked Mooncake made with premium Japanese Azuki Red Bean Paste and Pine Nuts ($60*) that promises a tasteful start to the season.
For even stronger flavours, Peach Garden (tel: 6252-9833) has a set of eight Mini Snowskin White Lotus Paste mooncakes infused with Sea Salt Caramel Truffle ($58*). It is a follow-up to its earlier hit flavour, the Champagne Truffle.
Premium ingredients
Peony Jade Restaurant (tel: 6659- 4159), renowned for its Flaky Teochew 'Orh Ni' Mooncake with Double Egg Yolks, ($70 nett), will present Little Heavenly Kings Premium Fruitti Mini Snowskin ($76 nett), which uses a range of premium ingredients such as Japanese Kyoho grape, peach, passionfruit, chocolate, champagne, honey mango and Philadelphia cheese.
Crystal Jade Culinary Concepts (wwww.crystaljade.com) - whose signature is the Mixed Nuts And Ham Baked Mooncake ($68*) that uses premium jinhua ham, olive and sesame seeds - has a new assorted snowskin selection ($58*) in mini size as well.
It includes notably a Natural Sea Salt With Dark Chocolate filling, which uses 70 per cent dark chocolate from world-renowned Italian chocolatier Icam; and Strawberry With Cranberry filling, which melds tangy and fruity notes in one creamy concoction.
* Price per box of mooncakes - which typically contains four pieces of normal- sized mooncakes, or eight pieces of mini-sized ones. Additional GST charges may apply. Please check with respective restaurants or outlets.
Check out these mooncake booths to taste-test one or more of the above listed mooncakes:
1. Ngee Ann City, B2 Takashimaya Square
2. Change Alley (10am to 7pm, weekdays only)
3. VivoCity (Tangs), Level 1 Central Court
4. Jurong Point Main Atrium
5. Millenia Walk North Galleria (11am to 8pm only)
6. From Sept 14: Ang Mo Kio Hub and Junction 8, Main Atrium
7. From Sept 15: Jem
- Sale period is from 10am to 10pm, unless otherwise indicated.
- Last day of sale is on Sept 27, unless otherwise indicated.
This article was first published on August 30, 2015. Get a copy of The Straits Times or go to straitstimes.com for more stories.