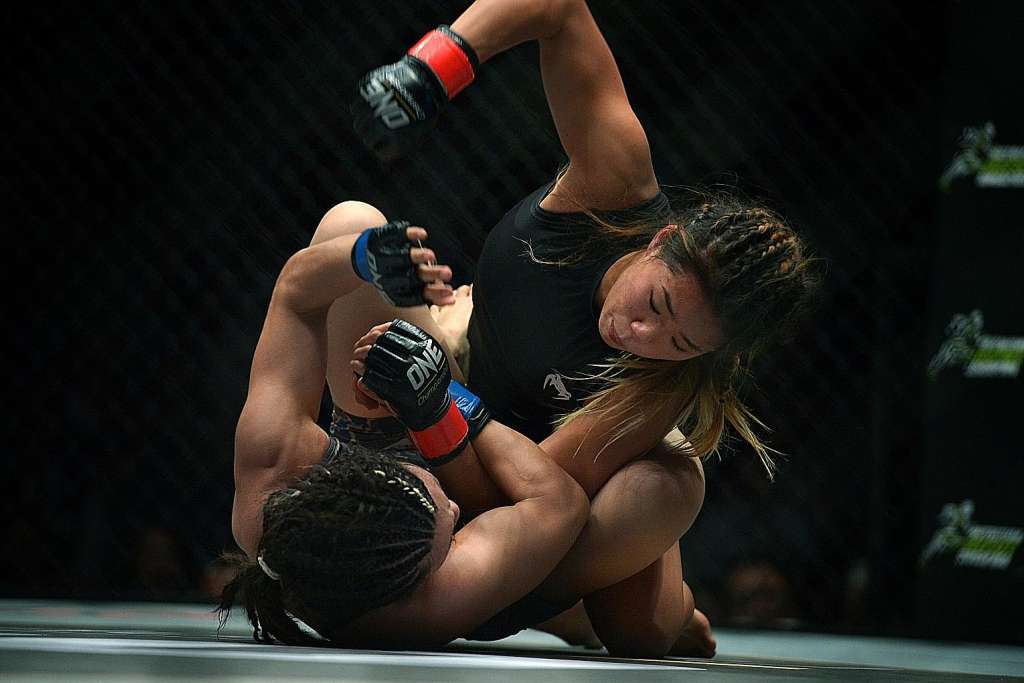 It may be just an atomweight title but Angela Lee is hoping that it will pack a big-enough punch this time round.
The Singapore-based mixed martial arts (MMA) exponent has been nominated for the Female Fighter of the Year accolade at the prestigious World MMA awards again.
The ceremony will take place on March 2 in Las Vegas.
Lee, who is Singapore-based MMA promotion One Championship's women's atomweight champion, was also nominated last year but did not win.
American Holly Holm bagged the title then after her sensational upset of Ronda Rousey, one of the sport's biggest stars.
The 20-year-old Lee is up against a star-studded line-up this year, which comprises Ultimate Fighting Championship (UFC) women's bantamweight champion Amanda Nunes, 28; UFC strawweight champion Joanna Jedrzejczyk, 29; two-time award winner Cristiane Justino, 31; and Australian fighter Angela Hill, 30.
Read also: Joseph goes Schooling at 'fight camp' by Singapore's MMA sweetheart Angela Lee
Even though she is again the youngest of the five nominees, Lee is not ruling out her chances of bagging the majority of the votes this year.
Voting can be done at www.worldmmaawards.com/vote and will determine the winner.
She told The Straits Times: "I am hopeful that I will win. With the growth of One Championship and the tremendous support I have received from my fans, anything is possible."
Regardless of whether she wins, she feels honoured to be nominated alongside some of the world's best MMA fighters.
Lee, who was born in Canada, said: "Having my name mentioned among the world's best is something that I am extremely proud of.
Read also: MMA: Angela Lee awarded $68,200 bonus following title victory
"A lot of hard work and countless hours in the gym went into this. I have worked very hard all my life to get to where I am today and I am truly humbled by the nomination.
"I am blessed to be in the position that I am, representing the women of Asia on the global stage of MMA."
Victor Cui, One Championship's chief executive officer, told ST: "No matter who wins the award, Angela is our female fighter of the year, hands down. Angela is one of the most humble and down-to-earth champions in the world. This nomination is an honour not just for Angela, but also for the entire One Championship organisation."
One Championship is also in the running for the Best Promotion award, while Cui is in the running for the Leading Man title.
Read also: MMA star Angela Lee honoured to be in main event at ONE's Ascent to Power
Lee's victory over Japanese Mei Yamaguchi last May at the Singapore Indoor Stadium also made the list of MMA website MMAjunkie.com's top five fights of the year.
Lee is in Hawaii and is expected to return to Singapore early next month to train at Evolve MMA in preparation for her title defence against Jenny Huang of Chinese Taipei.
That fight will take place on March 11 in Bangkok.
She said: "All I can promise is that I will continue to work hard everyday, and that I will continue to aim to inspire women from all over the world to chase their dreams."
Read also: Angela Lee Returns in 2017 to Defend Title Against Jenny Huang in Bangkok
MMA fighter Angela Lee set for historic fight
chiazya@sph.com.sg

This article was first published on Jan 11, 2017.
Get a copy of The Straits Times or go to straitstimes.com for more stories.