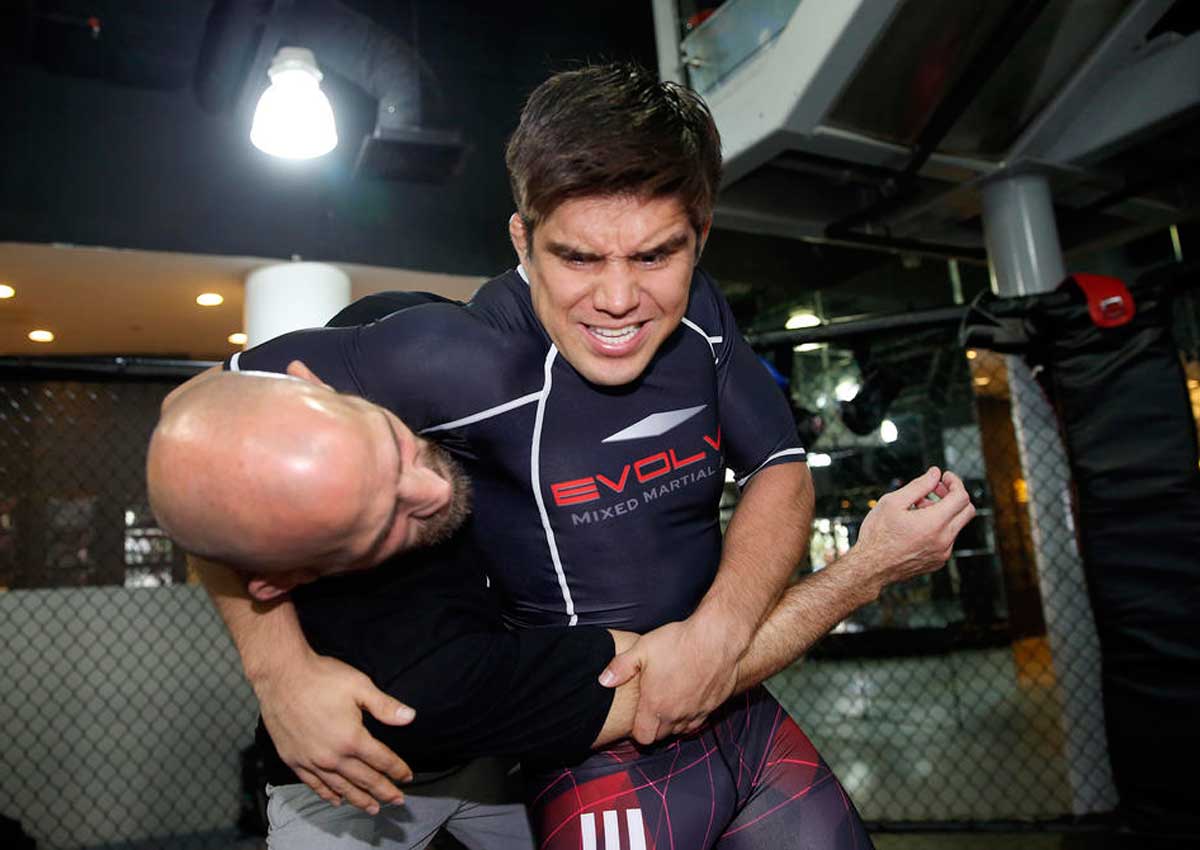 Since his debut in late 2014, Henry Cejudo boasts a flawless Ultimate Fighting Championship (UFC) record, notching 10 straight wins.
Already an Olympic wrestling gold medallist, the American is now using Singapore as a base to acquire more Mixed Martial Arts (MMA) knowledge in his quest to topple flyweight champion Demetrious Johnson, who remains undefeated in seven title challenges since 2012.
The 28-year-old arrived last Monday for a three-week pit stop here to train with the Evolve Fight Team. He aims to add the grappling skills of Brazilian jiu-jitsu (BJJ) and the flying elbows and knees of muay thai to his arsenal.
Cejudo has already felt a difference. He told The Straits Times: "If you watch me do pads a week ago and you watch me do pads now, it's like night and day.
"I have also been working with muay thai champions on my striking, Brazilian jiu-jitsu world champions on new submission techniques I can attempt, and just picking up many new moves on how to further improve my game."
Evolve's head coach, Heath Sims, added: "Henry's wrestling is good. He knows it. But what we're doing is exposing him to high-level muay thai coaching and to our black belts in jiu-jitsu so that he can expand his knowledge on the other things and put everything together."
Lending Cejudo a helping hand at Evolve are Bruno Pucci, a two-time featherweight BJJ world champion, and Namsaknoi Yudthagarngamtorn, a four-time muay thai world title holder.
Cejudo, who won the gold (55kg) at the 2008 Beijing Olympics, said: "The world champions and the quality of fighters they have here at Evolve, it's unlike anything else in the world. I am very humbled by this whole experience. I feel like a white belt next to all these champions.
"My background is in boxing and wrestling and you have all these world champions in muay thai and Brazilian jiu-jitsu and they bring all these aspects that no other gym brings. They let me know how good I am but at the same time, they also show me how good I can get."
Armed with his new techniques, Cejudo is feeling confident of taking down Johnson, whose record currently stands at 22-2-1. The date for their title bout has yet to be fixed.
"I'm the better athlete. I believe I have more power and I definitely have better coaching," said Cejudo. "There will be a strategic plan against him but I will make adjustments during the fight with what I have learnt."
And he has a chilling message for his fellow American, who is a BJJ and wrestling expert: "I will use my skills and I will expose you."

This article was first published on January 23, 2016.
Get a copy of The Straits Times or go to straitstimes.com for more stories.