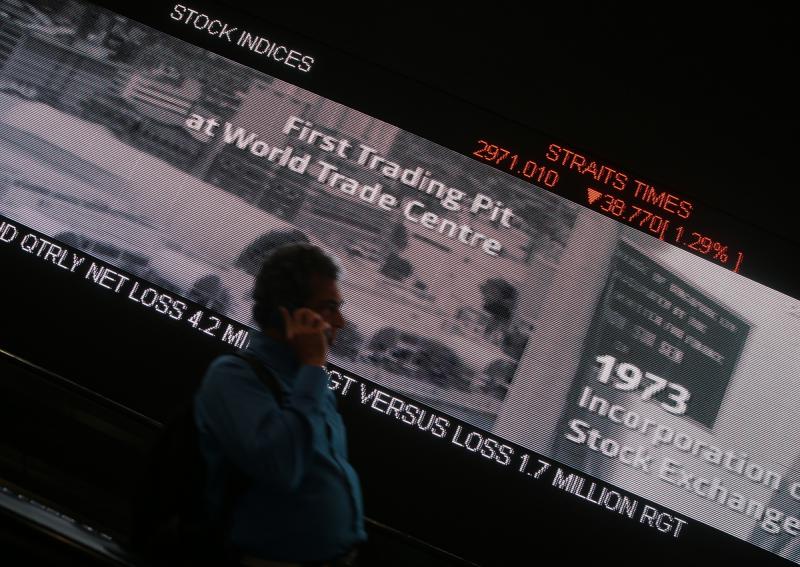 SINGAPORE shares got off to a shaky start to the week as traders moved in for profit-taking in the wake of gains in recent weeks.
The benchmark Straits Times Index (STI) yesterday lost 26.11 points, or 0.9 per cent, to 2,880.69.
A report by NetResearch Asia Team warned "the STI's current multi-week-long rally has hit a short-term resistance around the 2,900 to 2,920 level and suggested short-term traders lock in profits in anticipation of a range from 2,720 to 2,920 in the weeks ahead".
Markets elsewhere in the region were a mixed bag.
Shanghai rallied 2.2 per cent following news that the state margin lender would ease controls on lending, which sent Hong Kong 0.1 per cent higher as well.
But Seoul dipped 0.1 per cent and Sydney slid 0.3 per cent. Tokyo was closed for a holiday.
"We're not seeing a lot of enthusiasm in markets given the holiday-shortened week and the strong rally that we've had recently," Michael McCarthy, chief market strategist at CMC Markets in Sydney, told Bloomberg.
"We need to see more catalysts for this rally to continue. We need to see some signs growth is stable."
Wall Street on Friday rose 0.7 per cent to its highest level since Dec 30, after the Federal Reserve flagged a slower pace of interest rate rises this year.
Yesterday's STI losses were largely led by the local banks.
DBS Group Holdings dropped 27 cents or 1.7 per cent to $15.75, OCBC Bank slid 17 cents or 1.8 per cent to $9.10 and United Overseas Bank lost 27 cents or 1.4 per cent to $19.02.
Oil and gas-related stocks also skidded, with conglomerate Keppel Corporation slipping nine cents or 1.5 per cent to $6.03.
Sembcorp Marine fell three cents or 1.7 per cent to $1.715, while parent company Sembcorp Industries shaved off five cents or 1.6 per cent to $3.12.
Telco giant Singtel suffered in heavy trade, paring three cents or 0.8 per cent to $3.86.
Container business port trust Hutchison Port Holdings Trust was among the few blue-chip bright spots, rising one cent or 1.4 per cent to 71 cents.
Global Logistic Properties also fared well, edging up half a cent or 0.3 per cent to $1.90 while ComfortDelGro advanced three cents or 1 per cent to $3.
Among the penny stocks, precision components supplier CDW Holding rose as high as 19.3 cents in morning trade before losing 0.9 cent or 4.9 per cent to 17.5 cents.
The firm, which received a same-day trading query by the Singapore Exchange, said it is not aware of any possible explanation for the unusual trading activity.
Spackman Entertainment Group was one of the most active counters, with 174.3 million shares changing hands. The stock rose 1.2 cents or 9 per cent to 14.6 cents.
Overall trade across the bourse came up to 1.52 billion units worth $1.04 billion.
tsjwoo@sph.com.sg

Get MyPaper for more stories.