Before joining the PropNex Monopoly Championship, 26-year-old Ng Lan Ying didn't have much experience playing the board game.
"Watching my fiance's side of the family play got me very excited and interested, and that was why I took that first shot, and it's led me here today," Ng shares.
So when she first joined the competition four months ago, she came in with zero expectations in each round, let alone expect that she would eventually emerge as the champion during the Grand Final on Sunday afternoon, Aug 28.
With an aim of introducing insights on the Singapore residential market and financial literacy in a fun and gamified way, property agency PropNex launched the competition back in February.
PropNex had previously collaborated with Lazada to give away a $1 million condo at Normanton Park last year. A retired hawker eventually won the unit.
The tournament, held at Furama Riverfront Hotel, ran from May to August and saw close to 10,000 participants battle it out through four rounds before reaching the Grand Final.
The finals, which took place earlier in the morning, saw safety executive Harvinder Singh (45), in-house legal counsel Winston Wong (53), talent management consultant Ng, and fund manager Thomas Choi (40) emerge as table champions. (Ng's fiance had also participated in the competition and advanced to the finals.)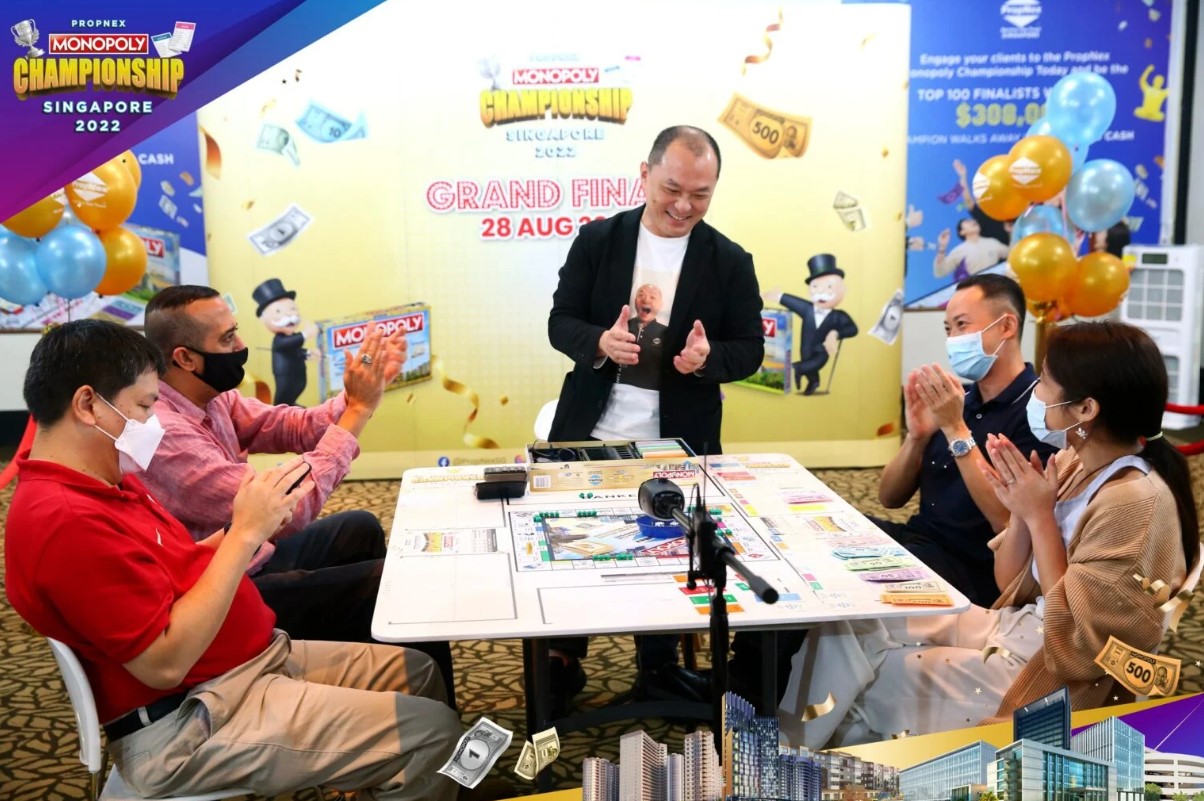 The four finalists proceeded to the Grand Final in the afternoon.
Unlike a typical Monopoly game that could last for hours, the game has been tweaked to last 1.5 hours. The game also incorporates various aspects of the Singapore property market, such as the Additional Buyer's Stamp Duty (ABSD) for owning multiple properties.
The game started pretty intensely, with Ng and Wong trying to outbid each other for a title deed. This was followed by the participants buying multiple properties and collecting rent from each other, with Harvinder and Wong eventually wiping out their Monopoly cash and selling off their properties, before being declared bankrupt.
The game culminated with Ng having the most Monopoly assets to win first place with a grand prize of $108,000, followed by Choi at second place ($48,000), Wong at third place ($38,000) and Harvinder at fourth place ($28,000).
More importantly, the game has taught Ng more about cash flow management and making the most of what one has.
It's also inspired her to start investing in property.
"Yes, it's definitely something we're looking into. But because we have just started buying our first property, we haven't thought much about that area yet. But we're definitely going to look more into property investment," Ng tells 99.co.
Ng and her fiance had just secured a BTO flat at Dakota.
"After we get our BTO, we'd look at future properties, for example, EC, condo, looking into investing into residential as well as commercial properties. The end goal is to get passive income from investing in properties."