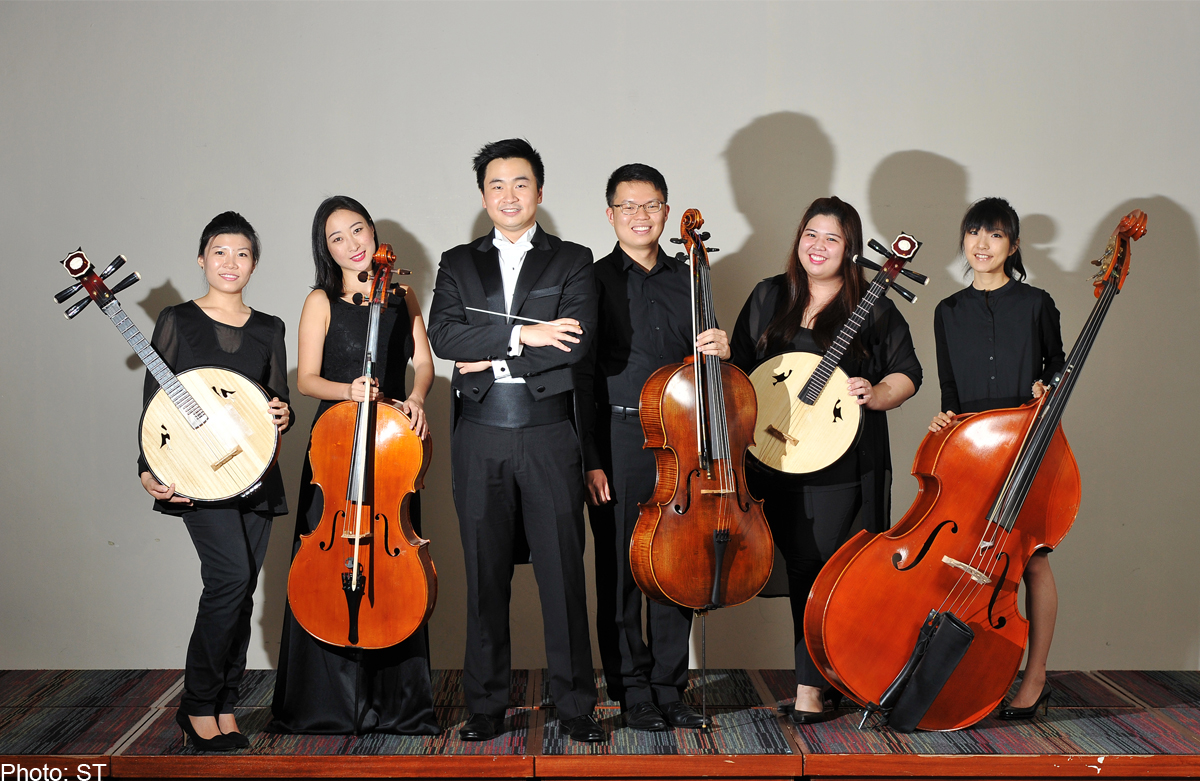 Graduates from local music schools have started to join the Singapore Chinese Orchestra (SCO) and Singapore Symphony Orchestra (SSO), boosting the number of younger Singaporean musicians at both.
Cellist Eddie Sim, 26, became the newest member at SCO last September, two months after he graduated from the Yong Siew Toh Conservatory of Music at the National University of Singapore.
His move followed SCO zhongruan associate principal Lo Chai Xia, 28, and assistant conductor Moses Gay, 30, who joined the orchestra last May and in August 2013 respectively. Both were from the Nanyang Academy of Fine Arts (Nafa) and completed joint degree programmes the academy offered with universities in Britain.
The SCO had earlier recruited double-bass player Wang Luyao, 30, and cellist Tang Jia, 32, from the Yong Siew Toh Conservatory. Both came from China and are now Singapore citizens.
The SCO's youngest musician, Nafa graduate Koh Min Hui, 24, joined the orchestra after obtaining her Nafa-University of Wales joint bachelor's degree programme in 2011.
SCO executive director Terence Ho, 45, said: "The new additions have certainly increased the presence of local-born members, who now stand at 30 out of the 85 musicians we have.
I expect the number to grow as interest to take up Chinese music as a career among the young is quite good now."
Over at the SSO, where a third of its 90 musicians are Singaporeans, general manager Anthony Brice, 39, said the orchestra has recruited six graduates - three violinists and one cellist, viola and clarinet player each - from the Yong Siew Toh Conservatory since 2008.
He said Singapore's "music ecosystem" has grown, with more students studying music performance at the pre-university and university levels.
The SSO has benefited from this and has seen more suitable candidates wanting to join the orchestra.
"The SSO Children's Choir recently also appointed Nafa graduate Darius Lim as assistant choir master, after he completed his master's in choral conducting in the United Kingdom," he said.
Nafa head of Chinese instrumental studies Wong Sun Tat, 40, recalled: "Even as recently as 10 years ago, it was quite impossible for local music school graduates to join the national Chinese orchestra.
Their presence now shows the quality of our students has gone up, thanks also to joint music degree programmes which Nafa offers."
As there are limited positions in the SCO, he said, other Nafa graduates will have to seek opportunities in semi-professional music groups such as Di Yi Music Company, which has a 20-strong Chinese music ensemble.
All six local music school graduates who joined the SCO recently said that they are proud to be a part of it.
"It has been my dream since I was in school at Hwa Chong to join the orchestra," said Mr Sim, who started learning to play the cello when he was 13.
Ms Tang, who is now SCO's cello associate principal, said: "SCO is a great orchestra to work for and I hope to see more Singaporeans joining us."