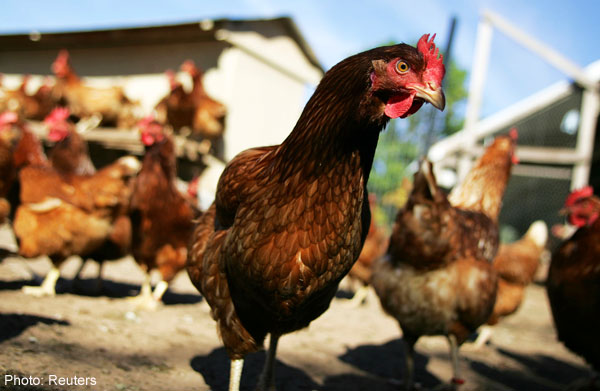 LONDON - Almost three-quarters of fresh chickens sold by British retailers were found to have traces of a potentially fatal food-poisoning bug, a food watchdog warned on Thursday and said major grocers were not doing enough to tackle the problem.
Tackling the campylobacter bug, the most common form of food poisoning in Britain, affecting an estimated 280,000 people a year, is the Foods Standards Agency's (FSA) number one food safety priority and it is leading a campaign to bring together the whole food chain to deal with the problem.
Publishing results from the first two quarters of a year-long survey of campylobacter in fresh chickens, the FSA said no retailers were meeting end-of-production targets for reducing contamination.
"These results show that the food industry, especially retailers, need to do more to reduce the amount of campylobacter on fresh chickens," said FSA Director of Policy Steve Wearne.
Its survey found that 18 per cent of chickens tested had campylobacter over 1,000 colony forming units per gram (cfu/g), the highest level of contamination, and more than 70 per cent of chickens had some campylobacter on them.
"This shows there is a long way to go before consumers are protected from this bug," said Wearne, though he stressed that if chicken is cooked thoroughly and preparation guidelines are properly followed, the risk to public health is extremely low.
The FSA said its survey found Wal-Mart's Asda to be the only major grocer to have a higher incidence of chicken contaminated by campylobacter at the highest level, compared to the industry average, while market leader Tesco was the only major grocer to have a below industry average incidence.
A spokeswoman for Asda said: "We take campylobacter seriously and it goes without saying that we're disappointed with these findings. There is no 'silver bullet' to tackle this issue, but along with other retailers, we're working hard to find a solution."