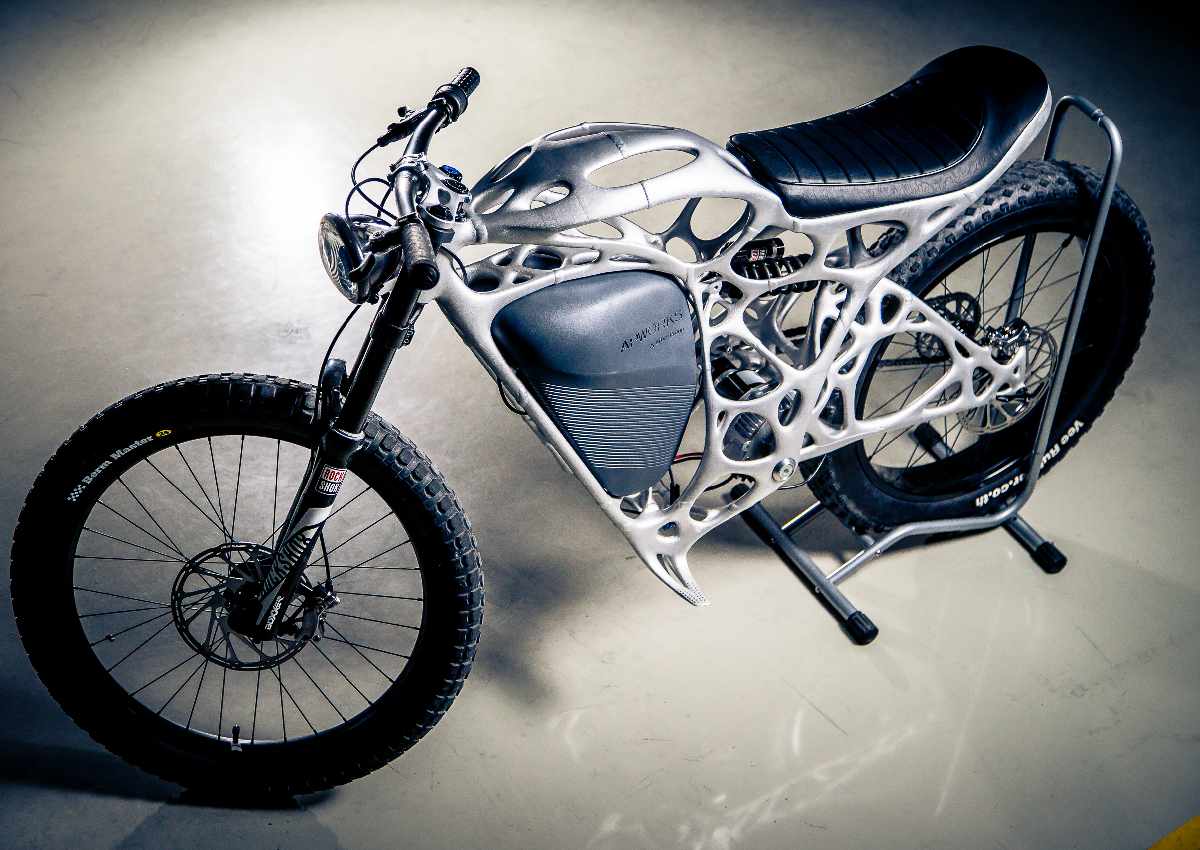 A skunkworks division of aerospace giant Airbus has created a featherweight e-bike with a super-strong 3D-printed frame.
Why would a company known for airliners and spacecraft build a motorbike?
"We needed a product to show what's possible with 3D-printing technology", said Angela Gruenewald, marketing manager for APWorks, a subsidiary of the French aerospace giant, Airbus.
"[We] decided on a motorcycle because everyone already has a preconceived notion about what it is - a heavy machine."
From its headquarters near Munich, Germany, APWorks already produces proprietary parts for a variety of applications, including the automotive, medical technology, and robotics industries.
But a bespoke motorbike would allow the company to show off its design and fabrication expertise in a decidedly more glamorous way.
The fruit of the company's labour, fittingly called the Light Rider, is no ordinary motorcycle.
With its gleaming skeletal structure, this flyweight 3D-printed electric oddity looks more like a piece from a natural-history museum diorama than a rideable machine.
But the bike's biomimicry is no mere gimmick: The Light Rider's radical computer-designed structure probes the limits of engineering solutions inspired my nature.
To design the bike's frame and swingarm rear section, the APWorks team collaborated with Altair Engineering, a US-based consulting company whose structural-design software works through the principle of "morphogenesis" - which in biology refers to process of environmental forces defining a natural organism's form and structure.
Morphorgenetic software is written to create forms that achieve maximum strength with minimal mass, and Altair's system has contributed to the designs of such boundary-pushing machines as the Boeing 787 Dreamliner, the Volvo Ocean 70 racing yacht, and the jet-powered Bloodhound SSC, which next year will attempt to break the land speed record.
Although the Light Rider's bare-metal frame weighs a scant 13 pounds, the bike can support a rider as heavy as 220 pounds.
Read the full article here