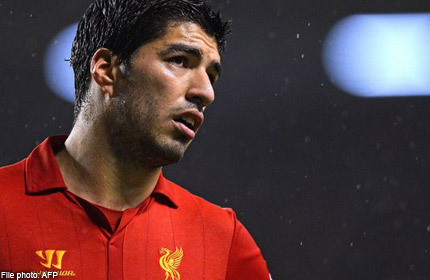 Luis Suarez may well make his first appearance in the Premier League this season after completing his 10-match ban, when Liverpool visit the Stadium of Light on Sunday night to take on Sunderland.
The 26-year-old came back to competitive action in Liverpool's 1-0 League Cup loss to bitter rivals Manchester United earlier in the week.
I am not too sure if the Uruguayan should get into the starting line-up so soon.
He should earn his place back, especially after how he's damaged the honour of a proud club with his actions on the pitch in recent seasons.
He did himself no favours and enraged Liverpool's fans by pushing for a move in pre-season and, even though that talk has since died down, I believe he still wants to leave.
I have always maintained a player who wants to leave a club and even says so publicly, does not just suddenly decide that he is happy and want to stay.
Daniel Sturridge has been the Reds' standout player in Suarez's absence, scoring four goals in their five league games, with the likes of Iago Aspas, Victor Moses and Philippe Coutinho also starring in the club's most impressive start to a Premiership campaign in years.
While the Uruguayan is at the club, some might wonder if Sturridge and Suarez can combine effectively up front, especially since the English international was noticeably quieter in the defeat by United.
I actually think it is possible. It is even possible to play the pair together with Coutinho lurking just behind them in a what could be a potentially devastating triangle, but the problem is that I don't think Liverpool are equipped to do that.
Such an attacking formation will be very risky, especially when Liverpool play away. To bring the best out of the trio, Brendan Rodgers would need Liverpool to play a Barcelona-style of passing football and I don't think they can.
It would require the entire team to be comfortable keeping the ball at their feet, for example, and I just don't think Liverpool's defenders and goalkeeper Simon Mignolet are capable of doing that.
While the Belgian international and former Sunderland custodian has proven to be a good signing this season, I don't think he is as comfortable on the ball as Pepe Reina.
Rodgers has shown how good he is in public relations in handling the Suarez issue, now he will be tested on how good he is as a man-manager. I may be wrong but, judging from his decisions last season, the Liverpool manager would prefer either Suarez or Sturridge alone up front.
If that remains the case and Suarez gets the nod ahead of his younger teammate, then Sturridge will be left wondering what more he needs to do to prove that he's worthy of a place in the first 11.
It would be some time before we will know if Suarez can have the same impact for the Reds as he did last season, given that he is just back.
But if Rodgers does not handle his re-introduction to the team well, it may cause problems with the rest of the players in the dressing room.
He was the crucial piece in the puzzle last season, now he may just be the square peg in a round hole for the Anfield outfit.

Get The New Paper for more stories.